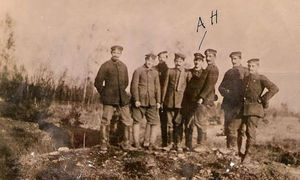 Army document is only written statement detailing Hitler's wish for systematic removal of Jews from Germany
A document understood to be the only existing written statement by Adolf Hitler in which he set out his belief in a systematic removal of Jews from society has been acquired by the Simon Wiesenthal Centre in Los Angeles.
The four-page letter, typewritten on faded brown paper and bearing Hitler's signature, was shown in public for the first time in New York, in what is likely to be seen as a key artefact in the historical record of the Holocaust. It will go on display at the centre's Tolerance Museum in Los Angeles.
The centre's founder, Rabbi Marvin Hier, said it was one of the most important documents of the period, showing the development of Hitler's antisemitic thought, and proved he had in mind a governmental solution to the so-called "Jewish Question". "This is the most important item we have in an archive of more than 50,000 objects," Hier said, adding that it would be used to educate future generations and to counter Holocaust denial.
Though Hitler alluded to his plans to exterminate Jewish people in speeches and indirectly through his closest henchmen, his thoughts on the subject can be found nowhere else committed to paper.