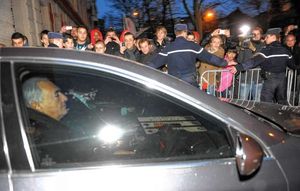 Ex-French presidential hopeful says he was in orgies, but didn't know women worked for money
French powerbroker Dominique Strauss-Kahn was freed from police custody in Paris on Wednesday after a 30-hour grilling over a prostitution sex-orgy ring.
The ex-head of the International Monetary Fund and one-time French presidential hopeful appeared haggard as he left the police station in Lille, France.
"He is entirely satisfied to have been heard," said his lawyer Frederique Beaulieu. Strauss-Kahn is expected to be summoned back to court again next month.
French police are investigating a suspected international prostitution ring that organized sex orgies at luxury hotels in Lille, Paris, and Washington, D.C.
Strauss-Kahn has admitted participating in the orgies, but
insists he did not know the women were hookers
and denied organizing the swinger bashes, one of his lawyers said.