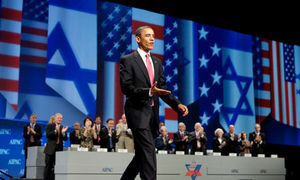 Barack Obama will address the annual convention of the American Israel Public Affairs Committee (AIPAC) on March 4, a day before he and visiting Israeli Prime Minister Benjamin Netanyahu hold talks expected to focus on Iran, the White House announced Tuesday.
With the Middle East peace process stalled
, the president and his guest
are likely to focus on
the best way to confront
Iran
over its suspect nuclear program, as well as the response to Syria's bloody crackdown on opponents of President Bashar al-Assad's regime.
The president's speech to the most powerful US pro-Israel lobby group could also have an election-year flavor: Republicans have tried to portray Obama as insufficiently supportive of Israel's security, a charge rejected by several high profile Israeli officials including Defense Minister Ehud Barak.
The announcement came after Obama's national security adviser, Tom Donilon, paid a two-day visit to Israel.