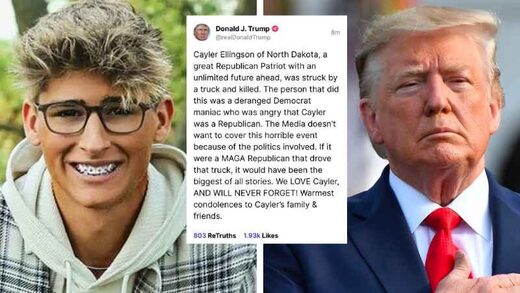 Former President Donald Trump
posted
his support of
Cayler Ellingson
on Truth Social on Friday, offering condolenses to the family of the teen that was killed over the weekend by a man afraid of "Republican extremists."
"Cayler Ellingson of North Dakota," Trump began, "a great Republican Patriot with an unlimited future ahead, was struck by a truck and killed. The person that did this was a deranged Democrat maniac who was angry that Cayler was a Republican. The Media doesn't want to cover this horrible event because of the politics involved. If it were a MAGA Republican that drove that truck, it would have been the biggest of all stories. We LOVE Cayler, AND WILL NEVER FORGET! Warmest condolences to Cayler's family & friends."
Ellingson was killed in the early hours of Sunday morning nearly one week ago. Shannon Brandt, the man who
pursued Ellingson in his car
, later admitted to police that he feared that the 18-year-old was a "Republican extremist" who was seeking to harm him. After he hit the teen with his car, he fled the scene of the crime and
failed to render aid
, in violation of North Dakota law.
An affidavit signed by officer Christopher Allen revealed Brandt's actions were the result of a "political argument" between him and Ellingson. Brandt stated that he was afraid that the teen was part of a "Republican extremist group" and said Ellingson had been "threatening him."
Ellingson's mother told officers that her son had called her that night and said that Brandt had been following him. He asked if she could pick him up, but by the time she arrived, it was too late. Brandt, she said, was known to her and Ellingson's father, but not to their son.
Brandt admitted that, following a "political argument," he slammed into Ellingson with his vehicle in an alleyway before fleeing the scene.
Police soon caught up with Brandt, who had admitted to having consumed alcohol prior to the incident, and arrested him for driving under the influence. A chemical test later confirmed that he had, in fact, been over the legal limit.
Brandt was transported to Stutsman County Jail, where he remained until Tuesday.
Upon posting his $50,000 bond, he was released back onto the streets.