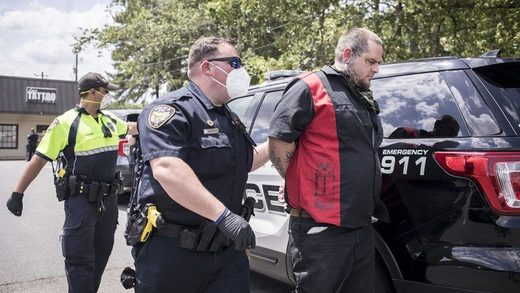 Matthew "Jax" Myers vowed to open his Apex tattoo parlor in defiance of North Carolina's stay-home order, insisting his rights had been trampled and his business ruined.
But 10 minutes after he flicked on the red "open" sign Wednesday afternoon, police led him away in handcuffs, placing him under arrest for violation of an executive order.
Myers, 38, said he knew his act would get him charged, but under Cooper's order, he is losing so much money that he fears he will lose his new house and won't be able to feed his three children as soon as June.
He said neither he nor any other small business owners he knows have received any small business loans or federal Paycheck Protection Program money, and he only got approval for insufficient unemployment payment after 13 attempts to sign up.
"I hope this will inspire other people to do the same," he said, shortly before his arrest. "You can arrest one person, but you can't arrest all these people."
BACKED-UP WORK WAITING
Myers, of Broadway, has been joining ReOpenNC protests in downtown Raleigh, and his Apex Tattoo Factory has both a copy of the Constitution on the front door and a Don't Tread On Me flag in the window.
He said his business, like all tattoo parlors, is inspected by Wake County health workers, and he has gone beyond normal levels of sanitation by limiting who can come inside and disinfecting every 1.5 hours. He has several months of backed-up work waiting, he said.
"If people are willing to take the risk," he said,
"it's their body and their choice."
Apex Tattoo Factory sits at the back of a small strip center on N.C. 55. Nearby, Apex Wings and a Hempko hemp/CBD store were open, allowable under Cooper's order.
Told of the arrest, Wake County Commission Chair Greg Ford said, "Each of us is responsible for the choices we make, and those choices have consequences. One way or another, we're always held accountable. I wish him well."
As police led him away, a spectator filmed Myers and said his forefathers would be proud.
"My father is proud," he said.