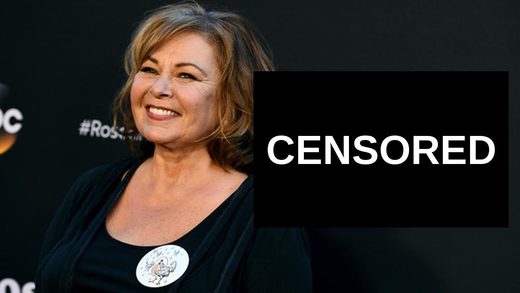 Roseanne Barr's revived sitcom has been cancelled after she posted a racist and Islamophobic tweet that attacked former Obama White House adviser Valerie Jarrett.
The sitcom star falsely alleged that Jarrett, who was born in Iran to American parents, has connections to the Muslim Brotherhood, and compared her to an ape. Barr wrote: "Muslim brotherhood & planet of the apes had a baby=vj," using Jarrett's initials.

Comment: It's an ignorant comment for her to make of course (for starters, Muslim Brotherhood has zero traction in Iran), but this was clearly just the pretext the liberal media elites were waiting for to nix a TV show that is even mildly conservative.


ABC swiftly announced the show's cancellation. The network said in a statement: "Roseanne's Twitter statement is abhorrent, repugnant and inconsistent with our values, and we have decided to cancel her show."

Comment: Pfft, it wasn't something you'd fire someone over... unless you were politically and ideologically-motivated.

Freedom of speech, much? First Amendment?

The media doesn't just get things wrong every day - it often flat-out LIES with FAKE NEWS. Barr tweets something - however incorrect it may or may not be - and she's FIRED from completely unrelated employment??


Bob Iger, the chief executive of Disney, which owns ABC, supported the decision. Iger wrote on Twitter: "There was only one thing to do here, and that was the right thing."

Comment: Er, no, there were other options. Like, ignoring it? Replying to it? Warning her about it? But by going straight for the jugular, you exposed your agenda.


Barr, one of Donald Trump's most high-profile supporters, apologized for the post as outrage grew, and announced she'd be quitting Twitter. She also deleted the tweet.
Barr was replying to a post from a user that accused Jarrett, a long-serving adviser to the president, of covering up the Obama administration's alleged "misdeeds".
When a Twitter user told Barr that her tweet was offensive and racist - Jarrett is African American - Barr responded by writing: "Muslims r NOT a race." Shortly after, Barr reiterated her stance in another post: "ISLAM is not a RACE, lefties. Islam includes EVERY RACE of people."
Barr later apologized. She wrote: "I apologize to Valerie Jarrett and to all Americans. I am truly sorry for making a bad joke about her politics and her looks. I should have known better. Forgive me - my joke was in bad taste."
MSNBC reported that Jarrett received a call from Iger before news broke of the cancellation. "This should be a teaching moment," she said.
Barr's tweets sparked condemnation from many prominent figures, including one of the sitcom's consulting producers, Wanda Sykes, who announced that she would not be returning for the proposed second season.
Barr's co-star Sara Gilbert, who plays Darlene, condemned the tweets as "abhorrent". Gilbert wrote: "Roseanne's recent comments about Valerie Jarrett, and so much more, are abhorrent and do not reflect the beliefs of our cast and crew or anyone associated with our show. I am disappointed in her actions to say the least."

Comment: Oh for god's sake! Shut up with your sanctimonious whinging!


The 65-year-old Barr has been in the public eye recently after her eponymous sitcom returned after a two-decade hiatus.
The now-cancelled show was ABC's most-watched "new" series
, averaging almost 18 million viewers per episode. In the show, Roseanne Conner plays a working-class Trump supporter, but Barr herself has not been shy about her allegiance to the president, frequently engaging with his critics online and peddling conspiracy theories shared by Trump's base, such as "Pizzagate", "Pedogate" and theories about the murder of former Democratic National Committee staffer Seth Rich.

Comment: Uhm, yeah, cause they're all true?


Barr on Monday also attacked Chelsea Clinton on Twitter, writing "Chelsea Soros Clinton" and claiming the former first daughter is connected to George Soros. Barr said Soros wants to "overthrow" the "US constitutional republic by buying/backing candidates 4 local district attorney races who will ignore US law & favor 'feelings' instead - and call everyone who is alarmed by that 'racist'."

Comment: The conspiracy may not quite work like that, but by what has happened to her, she has essentially been proven correct.


Barr also retweeted a post comparing Clinton to Donkey from
Shrek
.
After Clinton replied with a tweet of her own, Barr apologized in sarcastic fashion. "Sorry to have tweeted incorrect info about you!," she wrote, again invoking Soros, a frequent target of Trump and the right. "I Please forgive me! By the way, George Soros is a nazi who turned in his fellow Jews 2 be murdered in German concentration camps & stole their wealth - were you aware of that? But, we all make mistakes, right Chelsea?"

Comment: That is also a documented fact.


A spokesperson for Soros called the tweet "an affront".
Comment:
No, 'Hungarian' money-master,
iz called F-A-C-T
.
It's not a conspiracy theory that #GeorgeSoros helped the Nazis confiscate Jewish property and didn't regret it, he admitted this himself in an interview with 60 minutes. In fact, Zionist collaboration with Nazis was common, look up the transfer agreement. #Rosanne pic.twitter.com/4Ml3sa9yyp

— Partisangirl 🇸🇾 (@Partisangirl) May 30, 2018
After her tweets and the outrage that followed, Barr announced she was quitting the site. "I apologize," she wrote. "I am now leaving Twitter."
News of
Roseanne
's cancellation was met with cautious positivity in Hollywood. Actor and comedian Kumail Nanjiani tweeted: "I'm glad
Roseanne
is canceled. The backlash to its cancellation is going to be a deafening nightmare. Nothing good has come of this entire thing."
Westworld
star Jeffrey Wright was also concerned about the reaction from the right. "Aaaaannnd cue the people who just celebrated the NFL targeting player protests defending Roseanne Barr now on 1st amendment grounds. 3,2,1....popcorn," he tweeted.
Bruce Helford, the
Roseanne
show's executive producer and showrunner, said he was "horrified" by the comments. Helford wrote: "On behalf of all the writers and producers, we worked incredibly hard to create an amazing show. I was personally horrified and saddened by the comments and in no way do they reflect the values of the people who worked so hard to make this the iconic show that it is."
Barr has also been dropped by her agency ICM Partners. "We are all greatly distressed by the disgraceful and unacceptable tweet from Roseanne Barr this morning," a statement read. "What she wrote is antithetical to our core values, both as individuals and as an agency. Consequently, we have notified her that we will not represent her. Effective immediately, Roseanne Barr is no longer a client."