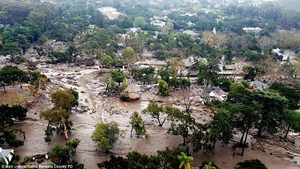 9 January 2018: Mudflows cause at least 20 deaths in Montecito, California
People convince themselves of their own lies, becoming victims of their own inventions as they begin to direct their lives by standards of behavior, ideas, feelings, or instincts which do not correspond to their inner reality. What is truly serious in this matter is that the individual loses all points of reference regarding what comprises truth, and what comprises lies. He becomes used to considering as true only that which is convenient for his personal interests; everything that is in opposition to his self-esteem or in conflict with already established prejudices, he considers false.
- John Baines
Recent Comments
They're heee-rree... Makes one wonder if all this Nork nuke stuff is just cover for something wicked, because the elites know something is...
---
Personally... I think these Russian chicks would suit the modern Western male rather well...
---
The similarity with the 1930s is that Ashdown et al resemble Oswald Mosely.
---
To be fair to Eisenhower, his phrase "military-industrial complex" was written in the original draft as "military-industrial-congressional...
---
"...Gone to church all his life" "...they all wore matching clothing when they went out." Seems to me that ole Ma Turpin is one sick puppy too......