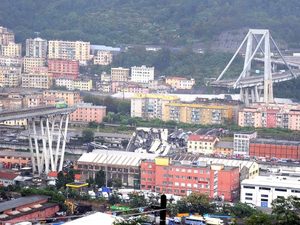 14 August 2018: Morandi Bridge in Genoa, Italy, collapses during a storm, killing 35 people
The eye sees only what the mind is prepared to comprehend.
- Robertson Davies
Recent Comments
I KNEW THIS ALREADY, IT WAS ALWAYS THE UK THAT MEDDLED, AND YET THE USA STILL BLAME RUSSIA, NOW, LETS SEE IF THE US TAKES BACK THE BULLSHIT...
---
At least they are finally being taught something they can use later in life. From my experience the only thing I've used since HS is math and...
---
Like a father who hits his children, eventually the children grow up and make their own way in the world - allbeit batteries and injured - the US...
---
It is refreshing to hear a country own up to a its own responsibility in its situation. A good step could be to approach Russia with this honesty...
---
To aquire moral capacity you first have to want it, which means recognising the truth of your current ammoral behaviour. That's why we incarcerate...