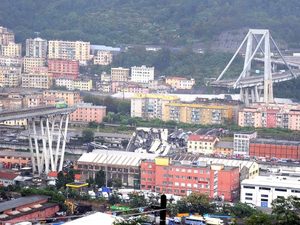 14 August 2018: Morandi Bridge in Genoa, Italy, collapses during a storm, killing 35 people
If the doors of perception were cleansed, everything would appear to man as it is, Infinite. For man has closed himself up, till he sees all things thro' narrow chinks of his cavern.

'The Marriage of Heaven and Hell'
- William Blake
Recent Comments
Root canal its true what he says they can be dangerous depends on how dentist performed in my case a polish dentist drilled that much in the upper...
---
Excellent article Pierre. Until then, and despite the numerous provocations to come, keep a balanced and objective view of what is going on in our...
---
Pied Piper returns to the limelight.. he must be very happy.
---
Well, as someone else pointed out.... Russia sold some... but much of it remains, just 'offshore' to prevent the US govt from seizing it. The...
---
Don't forget the old school 'divide and conquer' in the minority neighborhoods.. that's still working well in some spots... like the Windy City!...