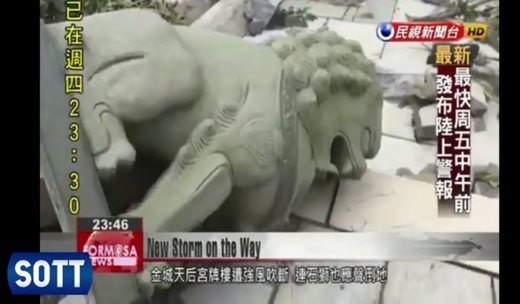 As the Empire crumples under its own hubris, and as the flames of discontent spread amid rumors of world war, planetary upheaval continues unabated. This month's Hurricane Matthew will probably be remembered as the year's worst storm event in the US (and elsewhere), but in September two other storms, Hermine and Julia - one of them Florida's first hurricane since 2005, and the other the first such storm to ever form directly over the Sunshine State - inundated the coastal US Southeast.
A series of cyclones also brought wave after wave of flooding to southeastern Australia, breaking rainfall records dating back to the country's foundation in the 19th century, and bringing the country as a whole its third wettest winter on record. Meanwhile multiple typhoons in the northwest Pacific battered the Philippines, Taiwan, China, Korea and Japan.
50% stronger today than 40 years ago
, the strongest of these cyclonic storms - Category 5 Meranti - was the strongest anywhere in the world so far this year, and second only to 2013's Typhoon Haiyan in the record books.
In addition to the walls of water brought by these large storms, local downbursts brought record-breaking rainfall, causing severe flash-flooding that washed away cars, homes and people in parts of the US, Mexico, Tunisia, Greece, Turkey, Ukraine, India, Indonesia, and China. Oklahoma, which never experienced earthquakes until recently, last month felt its strongest yet. A record-strong earthquake also hit South Korea, while a strong quake in Skopje, Macedonia, damaged buildings and sent residents into a panic.
Multiple volcanic eruptions, mass fish kills, whale beachings and meteor fireball events round off another eventful month of Earth Changes...
Watch it on
Sott.net's Vimeo channel
:
Music used: 'Escape from the Temple' by Per Kiilstofte. Licensed under Creative Commons Attribution 4.0 International
To understand what's going on, check out our book explaining how all these events are part of a natural climate shift, and why it's taking place now:
Earth Changes and the Human-Cosmic Connection
.
Check out previous installments in this series - now translated into multiple languages - and more videos from SOTT Media
here
,
here
, or
here
.
You can help us chronicle the signs by sending your video suggestions to sott@sott.net