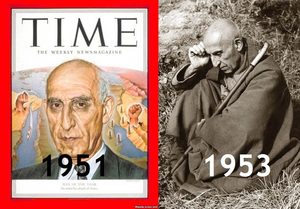 Mohammad Mossadegh, TIME Man of the Year, 1951 after he became the first democratically-elected PM of Iran. On 20 August 1953, he was overthrown in a CIA-MI6 coup and lived out his life under house arrest
Those who are able to see beyond the shadows and lies of their culture will never be understood, let alone believed, by the masses.
- Plato
Recent Comments
Now it's highway robbery. Just how far can the US stretch the Russian poisoning of the Skripals to justify hostile actions against foreign states....
---
Has anyone checked Twitter for #MeMoo postings ? ?
---
Forget foreign meddling with US elections when the Dems have friends like Soros and can weild influence over the social media. Pity for the...
---
This is just a very small taste of what US military impose on dozens of countries around the world. With 800 military bases around the world you...
---
The bully cannot win when everyone else stands united resulting in new alliances and new currency trades.