About Ryan
An information tech professional, former DJ, present avid explorer, evolving writer and lover of knowledge and all that's true, Ryan has been honing his storytelling kung-fu via years of blogging and more recently, submitting his work to the forge of journalistic rigour that is sott.net. His constellation of interests includes technology, geopolitics, ponerology, psychology, philosophy, history and astronomy, and you can also find his writings on his personal blog knpr.net, Twitter, and Steemit.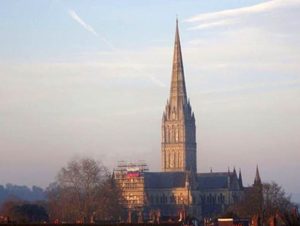 Salisbury Cathedral, 17 February 2019. Did you know? The spire is 123 meters tall, and famous throughout Europe...
The spirit of liberty is the spirit which is not too sure that it is right; the spirit of liberty is the spirit which seeks to understand the minds of other men and women; the spirit of liberty is the spirit which weighs their interests alongside its own without bias; the spirit of liberty remembers that not even a sparrow falls to earth unheeded; the spirit of liberty is the spirit of Him who, near two thousand years ago, taught mankind that lesson it has never learned, but has never quite forgotten; that there may be a kingdom where the least shall be heard and considered side by side with the greatest.
- Judge Learned Hand
Recent Comments
The funny thing is - vegan Youtubers get pushed with plenty of money from the bottomless pit of philantrophic billionaires and banking. Either...
---
Re Clinton News (sic) Network (CNN) knowing before Maffick Media about MM's facebook accounts about to be shut down via as as a part of ongoing...
---
The only thing that can civilise mankind is Jesus, and boy do they hate Him for it.
---
Is the aim perhaps of using the Donald Cook as a sacrificial lamb, making it do some highly provocative act which will result in the Russians...
---
FDA Asks Old People To Stop Infusing Children's Blood To Prevent Aging [Link]