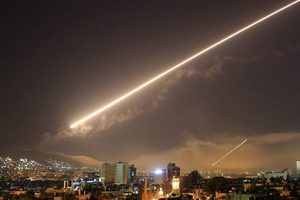 Syrian air defense systems protecting Damascus - the oldest continuously-inhabited city on Earth - from Western airstrikes, 14 April 2018
In the Truth there is no news, and in the News there is no truth
- Popular Russian saying under Soviet Communism
Recent Comments
And this case (like the Church shooting in Texas last year) shows the value of one well-raised hero, who has guts, and who also knows how firearms...
---
FrankieFleetfoot, Rocky, DeactivateD, Ruth, The US Constitution has an express requirement for 'Speedy Trials'* The way this has been effectively...
---
Quite a lame reason indeed, but it is a hypocrisy if you demand a respect of your customary laws, and at the same rebuke customary laws of your...
---
Tobbaco is also being used as a natural insecticide. In Spain one single plant is allowed for 1 hectare. The problem being that buying tobacco...
---
"A bit of US humility and common sense would have an exponential effect about now. Unfortunately, Israel is not going to allow its proxy to do...