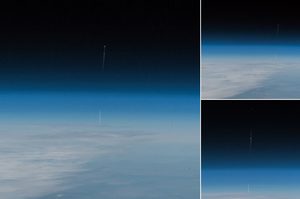 ESA astronaut Alexander Gerst aboard the ISS photographs the moment the Soyuz rocket launch fails, 11 October 2018
Freedom is indivisible, and when one man is enslaved, all are not free.
- John F. Kennedy
Recent Comments
What happens when you slow light down to below 463m/s ... the world record is 17 m/s through very cold sodium atoms Are we meant to believe that...
---
Giant space turd? The mothership flushed its black tank?
---
We had to act quickly... Oumuamua was rapidly fading as it headed away from the Sun and past the Earth's orbit 95,000 KM/hour - so 40 days from...
---
Big projects seem to open a pathway in human imagination in the same way as dealing with large numbers on a regular basis seems to. The next...
---
The 5 pillars of IslamX 3? "During the Wudu, hands, arms, face, etc are all washed 3 times each one. Also I've noticed that during the Salat, many...