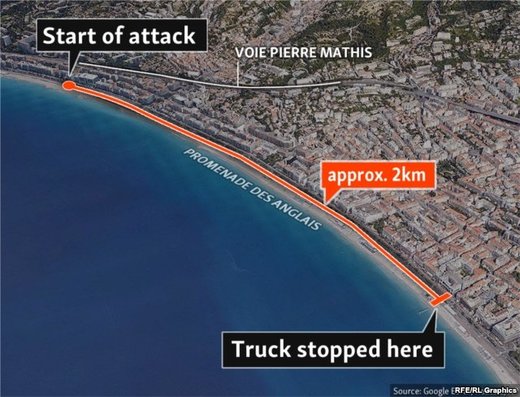 The death toll in the Bastille Day truck attack in Nice is currently at 84, with a couple of hundred injured, some still in critical condition. The driver managed to break through a barricade late Thursday evening and for almost 2 kilometers plowed through the crowd gathered to watch the fireworks. The driver has been identified as French-Tunisian Mohamed Lahouaiej Bouhlel, a non-religious petty criminal who reportedly shouted "Allahu Akbar!" before going on the rampage. He also reportedly opened fire on civilians and police, and was
killed during the shoot-out
.
The reaction from French citizens and world leaders has been predictable.
European countries tighten security following Nice terror attack
Countries across Europe are strengthening security following the Nice terror attack which claimed the lives of at least 84 people. It comes as France extends its state of emergency for an additional three months.

In a Thursday television address following the fatal attack, French President Francois Hollande announced that the current state of emergency, which was set to expire on July 26, would be further extended.

Now other European Union countries - including Belgium, the UK, Italy, Spain, Germany and the Czech Republic - are taking measures in an attempt to combat the threat of terror.
As
Gearóid Ó Colmáin
puts it, it looks like France is set for a permanent state of emergency (similar to the one the U.S. has been under ever since 9/11).
The new British Prime Minister Theresa "Big Mother" May shook her magic eight-ball and determined a terror attack in the UK is "highly likely", and the mayors of London and New York are 'reviewing safety measures' and amping up security.
Terror attack 'highly likely' says Theresa May ahead of emergency COBRA meeting
Newly appointed British Prime Minister Theresa May has called an urgent meeting of the government's emergency COBRA committee, saying a terror attack on the UK is "highly likely" following the devastating attack in Nice which left 84 people dead.

May says Britain should not expect attacks like those in Belgium, France, and elsewhere could not occur in the UK.

"The threat level here in the United Kingdom is already at severe, which means a terrorist attack is highly likely," she said.
Shouldn't that be the other way 'round? "A terrorist threat is highly likely (due to reliable intelligence), which means we have raised the threat level here in the UK." Guess not. Instead, the Bridiot Establishment ups the threat level, and therefore that means a threat is imminent. These losers really do think they create reality. Unfortunately for us, they do, because people lap it up.
Nice attack forces London's Mayor Sadiq Khan to review 'safety measures'
London Mayor Sadiq Khan will review the British capital's "safety measures" following a devastating attack on Bastille Day celebrations in the French city of Nice, which left 84 dead. He said the capital will "stand united" with France, insisting the "poisonous and twisted" terrorists would be defeated. Khan said the government's crisis response committee, COBRA, will meet on Friday following the attack. Prime Minister Theresa May also condemned the "horrific attack," and said Britain is at its highest security threat level.
New York State ramps up security following Nice attack
New York Governor Andrew Cuomo released a statement on Thursday addressing the Bastille Day attacks in Nice, France, which left at least 80 dead. Cuomo briefly outlined plans to intensify security measures across the state. In a press release on the governor's website, Cuomo explained that he has "directed state law enforcement officials to step up security at high-profile locations around the state, including our airports, bridges, tunnels and mass transit systems."

While New York has not been home to a terrorist attack since September 11, 2001, Cuomo said that "The Department of Homeland Security and Emergency Services' Office of Emergency Management Watch Center will be on heightened alert, monitoring world events."

"The horrific rampage in Nice is a direct attack on the universal values our two countries have long championed and upheld," Cuomo said, adding, "This is not only an attack on France, but an attack on democracy."
Never miss a chance to throw 'democracy' in there! Cuomo, like all his mentally deficient ilk, should know:
there can be no threat to 'democracy', because democracy doesn't exist
. It's a meaningless word used to mask Western barbarism, empire, and terrorism (physical, information, and economic).
Meanwhile, the rest of the loonies are milking this tragedy for all it's worth:
Newt Gingrich blames Obama for Nice attack, calls for screening of all Muslims
Newt Gingrich has blamed President Barack Obama for the Nice attack, claiming it was the fault of "Western elites who lack the guts to do what's right". The former Speaker of the House made his comments following Thursday's attack which killed 84 people.

"That starts with Barack Obama," Gingrich told Fox News, in a tirade where he criticized the president's administration for what he claimed were inadequate methods of fighting terrorism in the US. He went on to suggest that Obama would give a press conference blaming trucks for the Nice attacks.
The nullity known as Prime Minister of Ukraine Volodymyr Groysman had the gall to
say
:
"It is a challenge that we all must fight. It's all very connected: the East of Ukraine, Volnovakha, what happened in France, and today's terrorist attack are big tragedies. Our condolences," said Groysman.
As if some low-life murdering 84 civilians in the street can be compared to the East Ukrainians defending themselves against an invasion of neo-Nazis who torture, rape, mutilate, murder, and shell residential areas.
As for the people, everyone seems to be buying the false narrative:
that these attacks happen because our governments do not have enough dictatorial security powers. Their paranoia switch flicked, French citizens are saying exactly what they're supposed to be saying:
'Security here is non-existent': Eyewitness says massive lapse by officials led to Nice tragedy
Carol Davis, a witness to the attack in Nice, told RT that French security services had not been paying enough attention to the area ... "Although we are under state of emergency, there doesn't seem to be any security," Davis said, expressing her anger with the lack of police presence in the city during the mass celebrations on one of the main streets, which saw over 1,000 people coming to "experience fireworks, some joy" in a festive mood. "Just the other day, I left the beach because I thought everybody could come here and shoot us," she said, adding that the locals are "furious with the lack of security here."

"We see very little security here; we see very little army; we see a few guys with machine guns; they were just kind of walking around, not really looking, mostly talking to each other," she lamented, stressing that "nobody feels safe" in this kind of environment.
Got that? French people want more security officers with machine guns trolling the avenues.
More Nice residents had similar thoughts:
'We knew such an attack would happen, French authorities do nothing to prevent them'
Nice residents have long feared that attacks like the one happened on Thursday evening would target the resort city, a witness told RT, adding that the French authorities are not doing anything to prevent them, and he fears more to come.

"We knew that such [attacks] would happen in Nice. There were rumors that [extremists] may target Nice, or Italy, or Spain," Antoine Choimar, a cook who works in a restaurant on the Promenade des Anglais and lives in Nice where the tragedy occurred, told RT. ... "We heard [reports] that such attacks could happen at the beaches [of Nice] all the time. And it happened. Everyone knew that something like this would happen. We were afraid." He believes that these kinds of attacks will continue to plague France. "Why would they [attacks] stop?" he asked.

According to the cook, people don't trust the law enforcement system in France. "They are nothing. They do nothing [to stop these attacks]."
Even the blow-hard
Anonymous
group is buying the unproven suggestion that this guy was acting as part of a 'group': 'In a video posted on YouTube on Friday, the collective said that "to defend our values and our freedom, we're tracking down members of the terrorist group responsible for these attacks."' French PM Valls
concurs
: "He is a terrorist,
probably
linked to radical Islam one way or another," Valls told France 2 television. "Yes, it is a terrorist act and we shall see what links there are with terrorist organizations." (Evidence, please?)
There are some voices of reason, however:
7/7 detective tells RT more armed police won't stop Nice-style attack in Britain
Counter-terror expert David Videcette has told RT that the prevalence of armed police in France failed to stop the Nice attack, and arming more British officers in preparation for such an assault could cause more harm than good.
...
Videcette added that, as terror incidents don't happen every day, there is no need for giving more [British] officers access to firearms. "I believe that arming police routinely is a bad move - primarily because these officers need to be very highly trained, and there is the possibility of accidents and over-reaction. Training and attitude are key, and being able to make a split second decision is crucial. Not every police officer is capable of doing that. Not every police officer makes a good firearms officer.
Similarly, former MI5 officer Annie Machon
told RT
:
"We have an endemic surveillance state across the West - there is no doubt about it with the Snowden inquiry. And time after time after time we have seen these lone wolf attacks using low-tech weapons - knives or cleavers or lorries [trucks] or whatever. Most of the people committing those crimes have already been on the radar of the intelligence agencies," she said.

"What seems to be the overarching lesson from this is that because the technology is there the NSA and the GCHQ, the two main Anglo-Saxon spy agencies, can grab all this information, they are drowning and they are not targeting the right people," she added.
That's a best-case scenario. In the worst case, these individuals are dupes, manipulated and used by Western intel agencies in a very similar way to which the FBI has been using vulnerable American citizens in its 'terror plots' over the last 10 years. Even the
New York Times saw through the charade
.
Simply put, attacks like this happen
despite
draconian security measures, or rather, attacks like these provide
justification
for the implementation of draconian security measures, and the attacks then continue. So it's no use putting even more armed police and military on the streets. The only way to stop this is through a radical change in foreign and domestic policy: stopping foreign interventions,
fixing the mess they started
in the Middle East, and solving socioeconomic problems at home. In other words, MP Valls was kind of right when
he said
"France is going to have to live with terrorism." It won't go away as long as Western governments and intelligence agencies continue to provide fertile breeding ground for terrorism, at home and abroad. Speaking of Valls:
Police allegedly found the attacker's ID in the truck, and confirmed
his identity
matched after running the body's fingerprints. No weapons or explosives were found at his apartment. Neighbors say he was depressed due to his divorce and financial problems, and was sort of a loner who made some uncomfortable because of the way he stared at children and women. His ex-wife (and mother of his three children) is currently being held for questioning. Tunisian authorities say he wasn't known to have held any radical views.
He was arrested in March of this year for a road rage incident where he threw a wooden pallet at another driver.
According to the
Daily Mail
, Bouhlel wasn't a Muslim, never went to a mosque, drank, ate pork, took drugs, and beat his wife. This according to his cousin, who called him a "s***" and a "nasty piece of work".
Bouhlel, who had been known to the French police since January, had been on the radar for six months for petty criminality. It is understood he lost his job as a delivery driver when he fell asleep at the wheel and crashed into four cars and had also been involved in a bar brawl.

Walid Hamou, a cousin of Bouhlel's wife Hajer Khalfallah, told MailOnline: 'Bouhlel was not religious. He did not go to the mosque, he did not pray, he did not observe Ramadan.'He drank alcohol, ate pork and took drugs. This is all forbidden under Islam. He was not a Muslim, he was a s***. He beat his wife, my cousin, he was a nasty piece of work.'

Yesterday, he was stopped by police just hours before he crushed scores of people underneath the wheels of his 25 tonne truck and fired shots indiscriminately at police and innocent bystanders. He told officers that he was delivering ice-cream to the area and was allowed to park on the waterfront for several hours.
...
Wissam, a Tunisian neighbour from the same village as the driver claimed: 'On the Thursday night he was drinking with a colleague and they argued. His pal said you're worth nothing and he replied: 'One day, you'll hear about me.' Speaking to L'Express he said: 'Look this is someone who drinks, smokes cannabis.'

A neighbour called Hannan, who lived on the floor below, said: "He always looked at me oddly. He stared at us and we avoided him.' Another neighbour described him as shifty and unwillingly to make contact. Also, it now seems that the guns found in the van were fake and the grenade inoperable.

'Why?' said Wissam. 'What was the point of that?' ... 'He was not a fanatical muslim. He drank alcohol, he chased girls, he went to nightclubs. He did not go to the mosque. He was not religious at all. He split up from his wife about two years ago. She is a lovely woman.'
In the last year and a half,
more people were killed
in France due to terror attacks than in the entire last century:
Between 1914 and 2014, some 150 people were killed in bombings, targeted assassinations, and plane hijackings, the deadliest of which occurred in 1961, when 28 people were killed in the bombing of a Strasbourg-Paris train carried out by a far-right paramilitary organization opposed to the independence of Algeria called Organisation de l'armee secrete (OAS).

The Nice truck tragedy is the third terror attack in France in less than two years. The first was an attack on the satirical Charlie Hebdo magazine in January of 2015, which was followed by the massacre in central Paris in November of the same year. Altogether, the three terror attacks have claimed more than 230 lives.
The OAS had ties to Gladio and French intelligence
and was set up originally to 'convince' De Gaulle not to grant Algeria independence (they also attempted to assassinate him several times). So we should ask, why the focus on France? What message is being sent? Who benefits from these transparent attempts to set French non-Muslims against French Muslims? Or more to the point, who has been behind (and benefited from) the persistent attempts to demonize Muslims as terrorists in order to justify the invasion and occupation of Muslim countries and the threat of their resources?