About hkoehli
Name: Harrison Koehli

Harrison Koehli co-hosts SOTT Radio Network's Truth Perspective and Behind the Headlines, and is an editor for Red Pill Press. He has been interviewed on several North American radio shows about his writings on the study of ponerology. In addition to music and books, Harrison enjoys tobacco and bacon (often at the same time) and dislikes cell phones, vegetables, and fascists.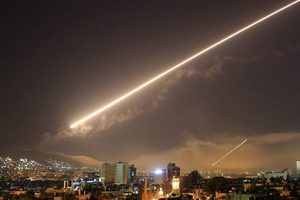 Syrian air defense systems protecting Damascus - the oldest continuously-inhabited city on Earth - from Western airstrikes, 14 April 2018
In the Truth there is no news, and in the News there is no truth
- Popular Russian saying under Soviet Communism
Recent Comments
Handshakes are all-important in France. Two guys show up for work next to each other, they shake hands. Lunch time, they shake hands again before...
---
" But as he reached his peak in 2015, Mancini suddenly began to suffer delusions. He imagined the government was spying on him, that members of...
---
Hey MI5, if you have some decent folks left.. Last chance! Throw out the psychopaths or go down with them!
---
Can there be a circle jerk with only two ? ?
---
WTF these kind of protests achieve anyway ? Oh wow, thank you for showing me the message, never thought about it this way. Gonna change my...