"He was great, he was unreal - really, really good."

"He had this kind of music that nobody else was doing. I thought he really had something crazy, something great. He was like a living poet."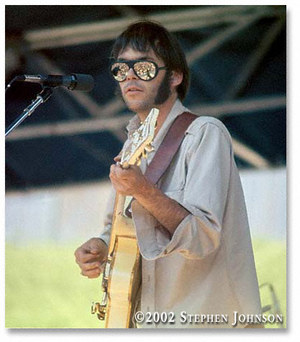 ©Steven Johnson
[Today's first trivia question: both of the above statements were made, on separate occasions, by a famous Laurel Canyon musician of the 1960s era. Both quotes were offered up in praise of another Laurel Canyon musician. Award yourself five points for correctly identifying the person who made the remarks, and five for identifying who the statements refer to. The answers are at the end of this post.]
In the first chapter of this saga, we met a sampling of some of the most successful and influential rock music superstars who emerged from Laurel Canyon during its glory days. But these were, alas, more than just musicians and singers and songwriters who had come together in the canyon; they were destined to become the spokesmen and de facto leaders of a generation of disaffected youth (as Carl Gottlieb noted in David Crosby's co-written autobiography, "the unprecedented mass appeal of the new rock 'n' roll gave the singers a voice in public affairs.") That, of course, makes it all the more curious that these icons were, to an overwhelming degree, the sons and daughters of the military/intelligence complex and the scions of families that have wielded vast wealth and power in this country for a very long time.
When I recently presented to a friend a truncated summary of the information contained in the first installment of this series, said friend opted to play the devil's advocate by suggesting that there was nothing necessarily nefarious in the fact that so many of these icons of a past generation hailed from military/intelligence families. Perhaps, he suggested, they had embarked on their chosen careers as a form of rebellion against the values of their parents. And that, I suppose, might be true in a couple of cases. But what are we to conclude from the fact that such an astonishing number of these folks (along with their girlfriends, wives, managers, etc.) hail from a similar background? Are we to believe that the only kids from that era who had musical talent were the sons and daughters of Navy Admirals, chemical warfare engineers and Air Force intelligence officers? Or are they just the only ones who were signed to lucrative contracts and relentlessly promoted by their labels and the media?
If these artists were rebelling against, rather than subtly promoting, the values of their parents, then why didn't they ever speak out against the folks they were allegedly rebelling against? Why did Jim Morrison never denounce, or even mention, his father's key role in escalating one of America's bloodiest illegal wars? And why did Frank Zappa never pen a song exploring the horrors of chemical warfare (though he did pen a charming little ditty entitled "The Ritual Dance of the Child-Killer")? And which Mamas and Papas song was it that laid waste to the values and actions of John Phillip's parents and in-laws? And in which interview, exactly, did David Crosby and Stephen Stills disown the family values that they were raised with?
In the coming weeks, we will take a much closer look at these folks, as well as at many of their contemporaries, as we endeavor to determine how and why the youth 'counterculture' of the 1960s was given birth. According to virtually all the accounts that I have read, this was essentially a spontaneous, organic response to the war in Southeast Asia and to the prevailing social conditions of the time. 'Conspiracy theorists,' of course, have frequently opined that what began as a legitimate movement was at some point co-opted and undermined by intelligence operations such as CoIntelPro. Entire books, for example, have been written examining how presumably virtuous musical artists were subjected to FBI harassment and/or whacked by the CIA.
Here we will, as you have no doubt already ascertained, take a decidedly different approach. The question that we will be tackling is a more deeply troubling one: "what if the musicians themselves (and various other leaders and founders of the 'movement') were every bit as much a part of the intelligence community as the people who were supposedly harassing them?" What if, in other words, the entire youth culture of the 1960s was created not as a grass-roots challenge to the status quo, but as a cynical exercise in discrediting and marginalizing the budding anti-war movement and creating a fake opposition that could be easily controlled and led astray? And what if the harassment these folks were subjected to was largely a stage-managed show designed to give the leaders of the counterculture some much-needed 'street cred'? What if, in reality, they were pretty much all playing on the same team?
I should probably mention here that, contrary to popular opinion, the 'hippie'/'flower child' movement was not synonymous with the anti-war movement. As time passed, there was, to be sure, a fair amount of overlap between the two 'movements.' And the mass media outlets, as is their wont, did their very best to portray the flower-power generation as the torch-bearers of the anti-war movement - because, after all, a ragtag band of unwashed, drug-fueled long-hairs sporting flowers and peace symbols was far easier to marginalize than, say, a bunch of respected college professors and their concerned students. The reality, however, is that the anti-war movement was already well underway before the first aspiring 'hippie' arrived in Laurel Canyon. The first Vietnam War 'teach-in' was held on the campus of the University of Michigan in March of 1965. The first organized walk on Washington occurred just a few weeks later. Needless to say, there were no 'hippies' in attendance at either event. That 'problem' would soon be rectified. And the anti-war crowd - those who were serious about ending the bloodshed in Vietnam, anyway - would be none too appreciative.
As Barry Miles has written in his coffee-table book, Hippie, there were some hippies involved in anti-war protests, "particularly after the police riot in Chicago in 1968 when so many people got injured, but on the whole the movement activists looked on hippies with disdain." Peter Coyote, narrating the documentary "Hippies" on The History Channel, added that "Some on the left even theorized that the hippies were the end result of a plot by the CIA to neutralize the anti-war movement with LSD, turning potential protestors into self-absorbed naval-gazers." An exasperated Abbie Hoffman once described the scene as he remembered it thusly: "There were all these activists, you know, Berkeley radicals, White Panthers ... all trying to stop the war and change things for the better. Then we got flooded with all these 'flower children' who were into drugs and sex. Where the hell did the hippies come from?!"
As it turns out, they came, initially at least, from a rather private, isolated, largely self-contained neighborhood in Los Angeles known as Laurel Canyon
(in contrast to the other canyons slicing through the Hollywood Hills, Laurel Canyon has its own market, the semi-famous Laurel Canyon Country Store; its own deli and cleaners; its own elementary school, the Wonderland School; its own boutique shops and salons; and, in more recent years, its own celebrity reprogramming rehab facility named, as you may have guessed, the Wonderland Center. During its heyday, the canyon even had its own management company, Lookout Management, to handle the talent. At one time, it even had its own newspaper.)
One other thing that I should add here, before getting too far along with this series, is that this has not been an easy line of research for me to conduct, primarily because I have been, for as long as I can remember, a huge fan of 1960s music and culture. Though I was born in 1960 and therefore didn't come of age, so to speak, until the 1970s, I have always felt as though I was ripped off by being denied the opportunity to experience firsthand the era that I was so obviously meant to inhabit. During my high school and college years, while my peers were mostly into faceless corporate rock (think Journey, Foreigner, Kansas, Boston, etc.) and, perhaps worse yet, the twin horrors of New Wave and Disco music, I was faithfully spinning my Hendrix, Joplin and Doors albums (which I still have, or rather my eldest daughter still has, in the original vinyl versions) while my color organ (remember those?) competed with my black light and strobe light. I grew my hair long until well past the age when it should have been sheared off. I may have even strung beads across the doorway to my room, but it is possible that I am confusing my life with that of Greg Brady, who, as we all remember, once converted his dad's home office into a groovy bachelor pad.
Anyway ... as I have probably mentioned previously on more than one occasion, one of the most difficult aspects of this journey that I have been on for the last decade or so has been watching so many of my former idols and mentors fall by the wayside as it became increasingly clear to me that people who I once thought were the good guys were, in reality, something entirely different than what they appear to be. The first to fall, naturally enough, were the establishment figures - the politicians who I once, quite foolishly, looked up to as people who were fighting the good fight, within the confines of the system, to bring about real change. Though it now pains me to admit this, there was a time when I admired the likes of (egads!) George McGovern and Jimmy Carter, as well as (oops, excuse me for a moment; I seem to have just thrown up in my mouth a little bit) California pols Tom Hayden and Jerry Brown. I even had high hopes, oh-so-many-years-ago, for (am I really admitting this in print?) aspiring First Man Bill Clinton.
Since I mentioned Jerry "Governor Moonbeam" Brown, by the way, I must now digress just a bit - and we all know how I hate it when that happens. But as luck would have it, Jerry Brown was, curiously enough, a longtime resident of a little place called Laurel Canyon. As readers of Programmed to Kill may recall, Brown lived on Wonderland Avenue, not too many doors down from 8763 Wonderland Avenue, the site of the infamous "Four on the Floor" murders, regarded by grizzled LA homicide detectives as the most bloody and brutal multiple murder in the city's very bloody history (if you get a chance, by the way, check out "Wonderland" with Val Kilmer the next time it shows up on your cable listings; it is, by Hollywood standards, a reasonably accurate retelling of the crime, and a pretty decent film as well).
As it turns out, you see, the most bloody mass murder in LA's history took place in one of the city's most serene, pastoral and exclusive neighborhoods. And strangely enough, the case usually cited as the runner-up for the title of bloodiest crime scene - the murders of Stephen Parent, Sharon Tate, Jay Sebring, Voytek Frykowski and Abigail Folger at 10050 Cielo Drive in Benedict Canyon, just a couple miles to the west of Laurel Canyon - had deep ties to the Laurel Canyon scene as well.
As previously mentioned, victims Folger and Frykowski lived in Laurel Canyon, at 2774 Woodstock Road, in a rented home right across the road from a favored gathering spot for Laurel Canyon royalty. Many of the regular visitors to Cass Elliot's home, including a number of shady drug dealers, were also regular visitors to the Folger/Frykowski home (Frykowski's son, by the way, was stabbed to death on June 6, 1999, thirty years after his father met the same fate.) Victim Jay Sebring's acclaimed hair salon sat right at the mouth of Laurel Canyon, just below the Sunset Strip, and it was Sebring, alas, who was credited with sculpting Jim Morrison's famous mane. One of the investors in his Sebring International business venture was a Laurel Canyon luminary who I may have mentioned previously, Mr. John Phillips.
Sharon Tate was also well known in Laurel Canyon, where she was a frequent visitor to the homes of friends like John Phillips, Cass Elliott, and Abby Folger. And when she wasn't in Laurel Canyon, many of the canyon regulars, both famous and infamous, made themselves at home in her place on Cielo Drive. Canyonite Van Dyke Parks, for example, dropped by for a visit on the very day of the murders. And Denny Doherty, the other "Papa" in The Mamas and the Papas, has claimed that he and John Phillips were invited to the Cielo Drive home on the night of the murders, but, as luck would have it, they never made it over. (Similarly, Chuck Negron of Three Dog Night, a regular visitor to the Wonderland death house, had set up a drug buy on the night of that mass murder, but he fell asleep and never made it over.)
Along with the victims, the alleged killers also lived in and/or were very much a part of the Laurel Canyon scene. Bobby "Cupid" Beausoleil, for example, lived in a Laurel Canyon apartment during the early months of 1969. Charles "Tex" Watson, who allegedly led the death squad responsible for the carnage at Cielo Drive, lived for a time in a home on - guess where? - Wonderland Avenue. During that time, curiously enough, Watson co-owned and worked in a wig shop in Beverly Hills, Crown Wig Creations, Ltd., that was located near the mouth of Benedict Canyon. Meanwhile, one of Jay Sebring's primary claims-to-fame was his expertise in crafting men's hairpieces, which he did in his shop near the mouth of Laurel Canyon. A typical day then in the late 1960s would find Watson crafting hairpieces for an upscale Hollywood clientele near Benedict Canyon, and then returning home to Laurel Canyon, while Sebring crafted hairpieces for an upscale Hollywood clientele near Laurel Canyon, and then returned home to Benedict Canyon. And then one crazy day, as we all know, one of them became a killer and the other his victim. But there's nothing odd about that, I suppose, so let's move on.
Oh, wait a minute ... we can't quite move on just yet, as I forgot to mention that Sebring's Benedict Canyon home, at 9820 Easton Drive, was a rather infamous Hollywood death house that had once belonged to Jean Harlow and Paul Bern. The mismatched pair were wed on July 2, 1932, when Harlow, already a huge star of the silver screen, was just twenty-one years old. Just two months later, on September 5, Bern caught a bullet to the head in his wife's bedroom. He was found sprawled naked in a pool of his own blood, his corpse drenched with his wife's perfume. Upon discovering the body, Bern's butler promptly contacted MGM's head of security, Whitey Hendry, who in turn contacted Louis B. Mayer and Irving Thalberg. All three men descended upon the Benedict Canyon home to, you know, tidy up a bit. A couple hours later, they decided to contact the LAPD. This scene would be repeated years later when Sebring's friends would rush to the home to clean up before officers investigating the Tate murders arrived.
Bern's death was, needless to say, written off as a suicide. His newlywed wife, strangely enough, was never called as a witness at the inquest. Bern's other wife - which is to say, his common-law wife, Dorothy Millette - reportedly boarded a Sacramento riverboat on September 6, 1932, the day after Paul's death. She was next seen floating belly-up in the Sacramento River. Her death, as would be expected, was also ruled a suicide. Less than five years later, Harlow herself dropped dead at the ripe old age of 26. At the time, authorities opted not to divulge the cause of death, though it was later claimed that bad kidneys had done her in. During her brief stay on this planet, Harlow had cycled through three turbulent marriages and yet still found time to serve as Godmother to Bugsy Siegel's daughter, Millicent.
Though Bern's was the most famous body to be hauled out of the Easton Drive house in a coroner's bag, it certainly wasn't the only one. Another man had reportedly committed suicide there as well, in some unspecified fashion. Yet another unfortunate soul drowned in the home's pool. And a maid was once found swinging from the end of a rope. Her death, needless to say, was ruled a suicide as well. That's a lot of blood for one home to absorb, but the house's morbid history, though a turn-off to many prospective residents, was reportedly exactly what attracted Jay Sebring to the property. His murder would further darken the black cloud hanging over the home.
As Laurel Canyon chronicler Michael Walker has noted, LA's two most notorious mass murders, one in August of 1969 and the other in July of 1981 (both involving five victims, though at Wonderland one of the five miraculously survived), provided rather morbid bookends for Laurel Canyon's glory years. Walker though, like others who have chronicled that time and place, treats these brutal crimes as though they were unfortunate aberrations. The reality, however, is that the nine bodies recovered from Cielo Drive and Wonderland Avenue constitute just the tip of a very large, and very bloody, iceberg. To partially illustrate that point, here is today's second trivia question: what do Diane Linkletter (daughter of famed entertainer Art Linkletter), legendary comedian Lenny Bruce, screen idol Sal Mineo, starlet Inger Stevens, and silent film star Ramon Novarro, all have in common?
If you answered that all were found dead in their homes, either in or at the mouth of Laurel Canyon, in the decade between 1966 and 1976, then award yourself five points. If you added that all five were, in all likelihood, murdered in their Laurel Canyon homes, then add five bonus points.
Only two of them, of course, are officially listed as murder victims (Mineo, who was stabbed to death outside his home at 8563 Holloway Drive on February 12, 1976, and Novarro, who was killed near the Country Store in a decidedly ritualistic fashion on the eve of Halloween, 1968). Inger Steven's death in her home at 8000 Woodrow Wilson Drive, on April 30, 1970 (Walpurgisnacht on the occult calendar), was officially a suicide, though why she opted to propel herself through a decorative glass screen as part of that suicide remains a mystery. Perhaps she just wanted to leave behind a gruesome crime scene, and simple overdoses can be so, you know, bloodless and boring.
Diane Linkletter, as we all know, sailed out the window of her Shoreham Towers apartment because, in her LSD-addled state, she thought she could fly, or some such thing. We know this because Art himself told us that it was so, and because the story was retold throughout the 1970s as a cautionary tale about the dangers of drugs. What we weren't told, however, is that Diane (born, curiously enough, on Halloween day, 1948) wasn't alone when she plunged six stories to her death on the morning of October 4, 1969. Au contraire, she was with a gent by the name of Edward Durston, who, in a completely unexpected turn of events, accompanied actress Carol Wayne to Mexico some 15 years later. Carol, alas, perhaps weighed down by her enormous breasts, managed to drown in barely a foot of water, while Mr. Durston promptly disappeared. As would be expected, he was never questioned by authorities about Wayne's curious death. After all, it is quite common for the same guy to be the sole witness to two separate 'accidental' deaths.
Art also neglected to mention, by the way, that just weeks before Diane's curious death, another member of the Linkletter clan, Art's son-in-law, John Zwyer, caught a bullet to the head in the backyard of his Hollywood Hills home. But that, of course, was an unconnected, uhmm, suicide, so don't go thinking otherwise.
I'm not even going to discuss here the circumstances of Bruce's death from acute morphine poisoning on August 3, 1966, because, to be perfectly honest, I don't know too many people who don't already assume that Lenny was whacked. I'll just note here that his funeral was well-attended by the Laurel Canyon rock icons, and control over his unreleased material fell into the hands of a guy by the name of Frank Zappa. And another rather unsavory character named Phil Spector, whose crack team of studio musicians, dubbed The Wrecking Crew, were the actual musicians playing on many studio recordings by such bands as The Monkees, The Byrds, The Beach Boys, and The Mamas and the Papas.
To Be Continued ...
(As for the trivia question, the person being praised, of course, was our old friend Chuck Manson. And the guy singing his praises was Mr. Neil Young.)