About Laura
Name: Laura Knight-Jadczyk

Laura Knight-Jadczyk is a seventh generation Floridian, a historian/mystic and author of 14 books and many articles published in print and on the internet. She is the founder of SOTT.net and the inspiration behind the Cassiopaean Experiment. She lives in France with her husband, Polish mathematical physicist, Arkadiusz Jadczyk, four of her five children, extended family, eight dogs, five birds and a cat.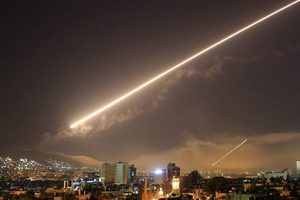 Syrian air defense systems protecting Damascus - the oldest continuously-inhabited city on Earth - from Western airstrikes, 14 April 2018
If you look for truth, you may find comfort in the end; if you look for comfort you will not get either comfort or truth only soft soap and wishful thinking to begin, and in the end, despair.
- C. S. Lewis
Recent Comments
Worms ? :O I didn't know. Pffeww I've been lucky... Thank god I've never been to Uganda. No but really, what an idiot. Here I am, embarrassed...
---
More accurate title "NHS will not pay for genetic testing until subject can give consent." Nothing stopping her from using 23andMe. The NHS just...
---
In North America, over 90% of the grain crops, wheat, oats and barley are drenched with glyphosate (Roundup), just before harvest. This is done to...
---
"And then the other night, we had a strike in Syria which was absolute precision," They were as the ones that got through hit their designated...
---
Well, a simple solution is to grow your own and/or visit local farmer's markets. Don't buy labeled non local food.