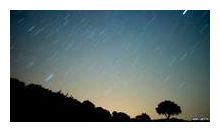 Scientists are beginning to tap into a wellspring of knowledge buried in the ancient stories of Australia's Aboriginal peoples. But the loss of indigenous languages could mean it is too late to learn from them.
The Luritja people, native to the remote deserts of central Australia, once told stories about a fire devil coming down from the Sun, crashing into Earth and killing everything in the vicinity.
The local people feared if they strayed too close to this land they might reignite some otherworldly creature.
The legend describes the
crash landing of a meteor in Australia's Central Desert about 4,700 years ago,
says University of New South Wales (UNSW) astrophysicist Duane Hamacher.
It would have been a dramatic and fiery event, with the meteor blazing across the sky. As it broke apart, large fragments of metal-rich rock would have crashed to Earth with explosive force, creating a dozen giant craters.
The Northern Territory site, which was discovered in the 1930s by white prospectors with the help of Luritja guides, is today known as the Henbury Meteorites Conservation Reserve.