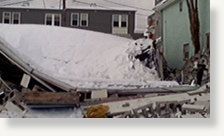 Auburn, Massachusetts - State officials renewed their warnings yesterday about the danger of roof collapses, as weather forecasters said a storm today could drop up to 6 new inches of snow on some parts of the region.
"This is not a reason for panic, it's a reason for care and diligence,'' Governor Deval Patrick said at a midday news conference in Auburn. "This is a very tough time, a very tough set of circumstances. But people can do things to keep themselves, their families, and their co-workers safe.''
He said the warning signs of collapse from heavy snow and ice included doors sticking or opening on their own because the jambs have become out of line. Leaks, windows jamming, and cracking sounds are other signs, the governor said during a visit to Interstate Battery Center in Auburn, whose circular roof collapsed Thursday. No one was injured.