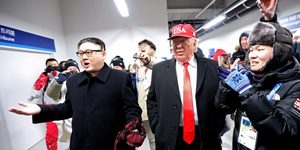 Did The Donald and Rocket Man secretly meet at the Winter Olympics in PyeongChang?
"In keeping silent about evil, in burying it so deep within us that no sign of it appears on the surface, we are implanting it, and it will rise up a thousand fold in the future. When we neither punish nor reproach evildoers, we are not simply protecting their trivial old age, we are thereby ripping the foundations of justice from beneath new generations."
- Aleksandr I. Solzhenitsyn
Recent Comments
This guy never was funny or even mildly amusing. I'm convinced the only reason he has a career is sheepish white people laughed in the audience...
---
Also from the same netflix special: "You would think the cops would occasionally shoot a white kid... just to make it look good. You would think...
---
and thus Pontificates the fungus. :P
---
Why do I feel like Russia and China are trying to help the entire world, and the US is trying to control the entire world? Is that accurate? I...
---
So we need bullies? I thought the whole purpose of the cassiopean experiment was to help us target pathological behavior for the purpose of...