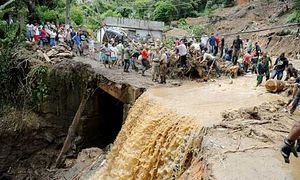 Urban planning has never been part of Brazil's political agenda, so when heavy rains come cities are not able to cope
As I write, more than two weeks after the floods began in the mountainous region of Rio de Janeiro state, many communities remain isolated due to landslides on the main access roads.
More than 800 people died and thousands of people have been displaced in the state, according to official figures. One of the worst affected towns is Santa Rita. Dozens of families still depend on helicopters to deliver food, water, and emergency healthcare. In the town of Teresópolis, people are starting to clear debris in the streets by hand, with shovels and brushes. And in Nova Friburgo, families watch, and cry, as their homes are demolished.
In the neighbouring state of São Paulo, the richest in the country, 25 people died because of the heavy rains. In Santa Catarina state, in the south, five people lost their lives and 17,000 had to flee their homes.
The January rains in Brazil are becoming more severe and floods are becoming a routine. But while specialists say it's too early to confirm the heavy rains are caused by climate change, the fact is that Brazilian cities have never been ready for them.