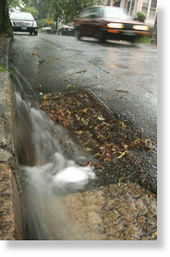 Welcome to the first day of July - - which brought more rain than the entire month of June.
Severe thunderstorms rumbled into Southern New England beginning at daybreak on Wednesday and continuing at 11 a.m. for a second round, clustering together over the southernmost tip of Rhode Island with wave after wave of heavy rain and lightning strikes.
Roads flooded and left motorists stranded in their swamped cars. Lightning struck houses from Westerly to Coventry. Torrential downpours - - at times about an inch an hour - - overwhelmed drainage systems, forcing street and highway closures in parts of South County. The rain gauges used by engineers at the Department of Transportation showed 4 inches of rain fell in just two hours in Charlestown - - approaching levels of a hundred-year storm, said department spokesman Charles St. Martin.