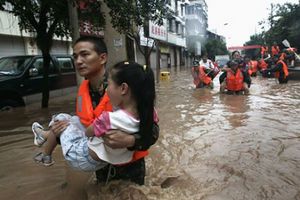 Fresh floods in China's northeastern Liaoning province have forced more than 120,000 people to evacuate their homes and thousands to relocate in North Korea.
China's Civil Affairs Ministry said late Saturday that 127,000 people had been evacuated in Liaoning province in just three days due to the rains, AFP said.
Heavy summer downpours have dangerously swollen the Yalu River, which forms the boundary between China and neighboring North Korea. Chinese forecasters have warned of more heavy rains in parts of Liaoning.
In Dandong city alone, which borders North Korea, more than 94,000 residents were evacuated and some power and transport links were cut off, China's official Xinhua news agency reported.