Smile. And the world smiles with you. Frown and your face drops and frightens children.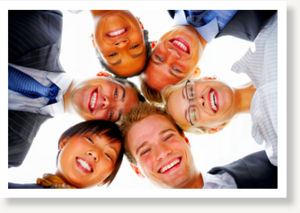 According to body-language experts, if you don't smile much, over time, it will come out in your face. Without practice, smiling muscles weaken and wither. Bitterness, sadness and anger repositions the muscles and tissue into a "downturned smile" - this is where instead of smiling, a pouching at the corner of the mouth pulls your smile downward. This effect can be permanent and some people go scowling into oblivion.
Like everyone else who comes across this theory, I checked the sides of my mouth to see where my face stood. Obviously faces are made up in diverse ways, and smiling up or down doesn't necessarily mean anything. Then again maybe it does. Studies have shown that small children are instinctively afraid of the downturned smile and even adults exert caution around it.
Although it doesn't seem like psychologists recognize the phenomenon, plastic surgeons certainly have. You can now have your choice of Snap On Smiles, Botox Smiles and Smile Replacement surgeries where tendons are ripped and reattached, flesh is re-sculpted and various congealing substances are injected around the mouth. The specialists claim to be able to literally turn a frown upside down. So be as miserable as you want to be. For a bunch of cash, you can always get a reconstructed smile pasted back on your face.