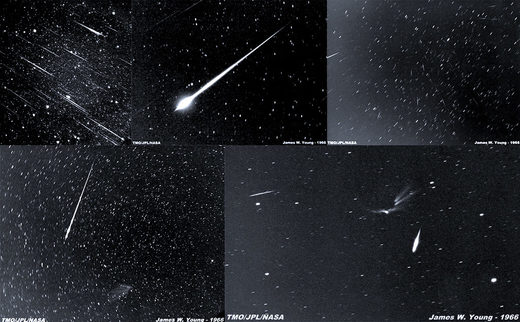 by Alexandra Terentjeva (Institute of Astronomy of the Russian Academy of Sciences, Moscow, Russia):

[email protected]
3600 individual photographic orbits of meteor bodies and about 2000 visual meteor radiants with corresponding velocities were compiled and carefully studied in detail. 154 minor meteor streams were detected in the Solar System, their basic orbital and other data are given.
Firstly some remarkable shower and stream properties are established: examples of the large elliptic radiation areas with semi-major axes perpendicular to the Ecliptic; the existence of the Northern (N) , Southern (S) and Ecliptical (Q) branches of some streams; stream-antipodes and radiant-antipodes (symmetrically arranged relatively to the Ecliptic) with angular distances from the Ecliptic to 40-80°; а number of short-perihelion streams (q ~ 0.05-0.07 A.U.); some meteor streams perpendicular to the Ecliptic's plane.
There are also some unique meteor bodies with their orbits enclosed within the limits of the Earth's one, or having the clockwise and anticlockwise direction in two similar orbits.