Archaeologists from the University of Birmingham have found "compelling evidence" of new pharaonic tombs at Qubbet el-Hawa in Aswan, Egypt's Ministry of Antiquities has revealed.
A two-metre high ancient encroachment wall has been discovered below a visitors' pathway in the northern part of the West Aswan cemetery at Qubbet el-Hawa.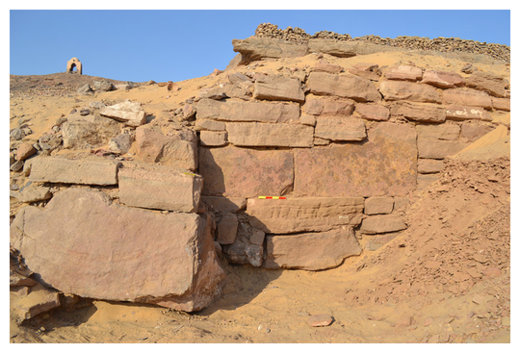 It follows and archaeological mission by the University of Birmingham and the
Egypt Exploration Society (EES)
Qubbet el-Hawa Research Project Group (QHRP), directed by
Dr Martin Bommas
of the University of Birmingham.
The newly discovered wall is thought to indicate the architectural support for the known tombs of the first upper terrace, including those of Harkhuf and Heqaib, who were governors of Elephantine Island during the Old Kingdom.
Owing to the landscape of Qubbet el-Hawa, the support wall helped to secure the hillside, and thus lower lying tombs, which were accessible by a causeway leading to a second terrace.