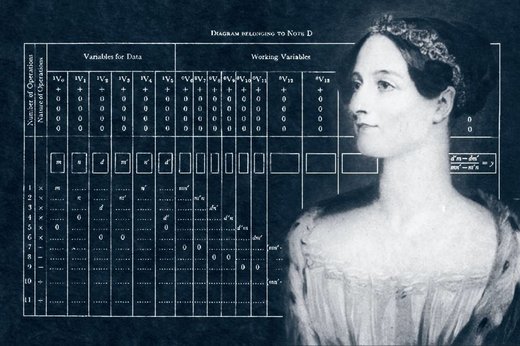 In a time when mathematics was "a man's work," Ada Lovelace was trained in aristocratic graces but pursued her passion for what later became computer science.
Many girls growing up in the aristocracy of Victorian-era London fantasized about dancing in elaborate ballrooms and marrying a favorable match. Ada Lovelace dreamed of
building a flying machine.
She scoured periodicals for designs of new inventions, considering how a steam engine might power such a device, and studied the anatomy of birds to determine the proper proportion of wing length to body size to enable flight. Her design preceded Henson and Stringfellow's patent for the
aerial steam carriage
by some 15 years.
She was only 12 at the time, but it was already clear that Lovelace would not stick to convention, eschewing science and mathematics, as women of her time were expected to do.
The daughter of philandering poet Lord George Gordon Byron and aristocratic Lady Anne Isabella Milbanke Byron, Lovelace did not follow in her father's footsteps, as her mother feared she might. Instead, she found a language of her own and wrote the world's first computer program, long before the advent of the first computer.
"Lovelace is a fascinating figure, not least because she made a huge leap when she foresaw the potential of a general purpose computing machine to create music or art," said Suw Charman-Anderson, social technologist and founder of the annual international
Ada Lovelace Day
.
"She was so far ahead of her time that it seems none of her peers understood her vision."