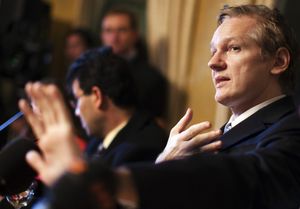 "In politics, nothing happens by accident. If it happens, you can bet it was planned that way." --Franklin D. Roosevelt
After the publication of a series of confirmations rather than revelations, there are some crucial unanswered questions regarding the nature and organizational structure of Wikileaks.
Shrouded in secrecy, the now famous whistleblowing site and its director Julian Assange are demanding "transparency" from governments and corporations around the world while failing to provide some basic information pertaining to Wikileaks as an organization.
Who is Julian Assange?
In the introduction to the book
Underground: Hacking, Madness and Obsession on the Electronic Frontier
(1997), by Julian Assange and Suelette Dreyfus, Assange begins with the following quotes:
"Man is least himself when he talks in his own person. Give him a mask, and he will tell you the truth." -- Oscar Wilde
"What is essential is invisible to the eye." -- Antoine De Saint-Exupery
From the start, Assange states that he undertook the research for the book; however, he fails to mention that he was actually one of the hackers analyzed in the book, going by the name of Mendax, a Latin word for "lying, false...".
Although we cannot confirm that the above quotes referred to him, they nonetheless suggest that Assange, at the time, was hiding his true identity.