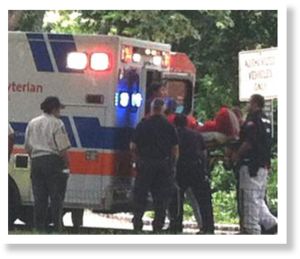 Elmo says the banking industry is a neo-Zionist conspiracy to subjugate the gentiles.
The homeless eccentric known in
New York City
as "Anti-Semitic Elmo" ended up in hand cuffs last week after a clash with police. Police had to restrain the lovable but racist Sesame Street character in the vicinity of the Central Park Zoo during one of his more vicious tirades.
The middle-aged man was removed from his
suit
and carted off to New York-Presbyterian Hospital for observation and psych evaluation, according to
The Smoking Gun
.
Anti-Semitic Elmo spends his days roaming the walkways of Central Park dressed in a full body Elmo costume, spouting conspiracy theories that implicate the "International Jew," whom he blames for societal woes ranging from poverty to nuclear proliferation.
When he isn't pontificating about the horrors of Judaism, Anti-Semitic Elmo poses for pictures with
tourists
and passers-by in exchange for small financial donations. He is often heard ranting and raving about a 90-year-old pamphlet of Anti-Semitic hate lit published by auto magnate Henry Ford.
"If you start your own business in this town, Jews will harass you," says Anti-Semitic Elmo.
As one observant New Yorker pointed out, "This is the scariest Elmo I've ever seen."
See a NSFW
video
of Anti-Semitic Elmo toiling at his day job below: