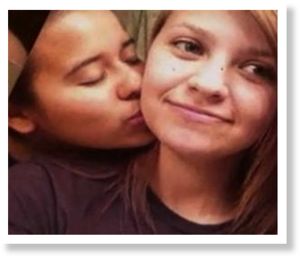 Two young women were victims of a suspected hate crime near the south Texas town of Portland over the weekend. An unknown gunman allegedly targeted the two women in a public park because they were gay, according to the
Daily News
.
Mollie Judith Olgin, 19, and Mary Christine Chapa, 18, were discovered by police near a scenic lookout in Portland Park around 9 a.m. last Saturday. Olgin was pronounced dead at the scene, but Chapa still clings to life in a local hospital after undergoing risky surgery.
Friends of the teenage couple said that Chapa and Olgin had been dating for around five months. Olgin was a student at nearby Texas A&M Corpus Christi. Chapa was a resident of Sinton, Texas.
Portland Police Chief Randy Wright assured MSNBC that the department was investigating the shooting as a murder and that he would continue to explore the homophobic angle as a motivation for the homicide.
"It appears as if this was not just a random attack," said Wright.
As of yet, police have no suspects. The only piece of evidence left at the scene was a small bullet casing.