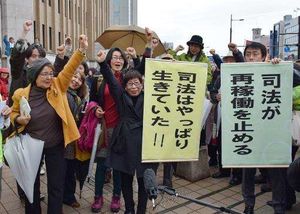 A Japanese court upheld an injunction banning the restart of two nuclear reactors, a report said Tuesday, in a blow to the government's ambitions to return to atomic power generation.
Fukui District Court in central Japan dismissed Kansai Electric Power's motion for a stay on an earlier decision to temporarily bar the restart of the No. 3 and No. 4 reactors at plant in Takahama, Kyodo News said.
The decision made Monday comes as the government and Japan's powerful utility companies work to get reactors back online, more than four years after the disaster at Fukushima.
The accident forced Japan's entire fleet of reactors offline over the following months amid deepening public suspicion over the technology.