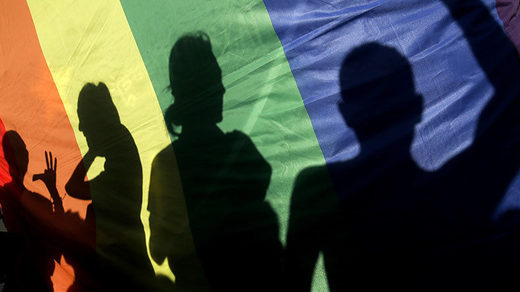 Theresa May vowed to scrap medical checks for people who officially change gender. She told an audience at the Pink News awards dinner on Wednesday night that 'being trans is not an illness and it should not be treated as such.'
"We have set out plans to reform the Gender Recognition Act and streamline and de-medicalise the process for changing gender," the prime minister said.
The proposals, if passed, could do away with the requirement for a medical diagnosis of gender dysphoria before a person can officially change their gender.
May said she is "proud" to have sponsored the Same-Sex Marriage Act as Home Secretary.
"There is still much more to do and I am committed to seeing that work through - for instance, eradicating homophobic and transphobic bullying in schools, and reforming the Gender Recognition Act - so that we can build a better future for everyone in our society."
Looking on was Justine Greening, May's Education Secretary, who last year became the first female Cabinet minister to come out as gay while in office.
Greening has previously said the government intends to consult potential reforms to the act, streamlining the process of changing gender. At the ceremony, Greening, alongside Scottish National Party (SNP) MP Hannah Bardell, was co-awarded with Pink News' 'Politician of the Year.'
Proposals to extend rights to transgender people have faced opposition from some in the Conservative Party, including David Davies MP, who earlier this year wrote "we cannot consider the rights of transgender people without considering the rights of others."
Writing in the South Wales Argus, the Monmouth MP said: "Some might say I am on the 'wrong side of history' and 'bigoted.' But I would maintain that anyone in possession of male genitalia should be expected to use male facilities regardless of what gender they feel they are."
Following the 2017 General Election, May faced criticism for her deal with the socially conservative Democratic Unionist Party (DUP) in propping up her government.
In 2007 prominent DUP MP Ian Paisley Jr. was criticised after being quoted saying: "I am pretty repulsed by gay and lesbianism [sic]. I think it is wrong. I think that those people harm themselves and - without caring about it - harm society."
In 2013 Paisley revised his position, stating that he has "grown up since then."
Following May's announcement, Labour leader Jeremy Corbyn opened up the possibility of a Tory/DUP rebellion by daring May to give her MPs an open vote on the legislation, urging her to "bring forward a bill to update the act and improve trans rights, and Labour will back you. You can give your MPs and the DUP a free vote and Labour will make it law."