About lilies
Name: Robert Bakos

Robert is a long-time former editor of a prominent Hungarian gaming news website. He has IT support and game programming experience. Spends his time creating graphics, videos and sound effects. Contributed to the Cassiopaean Glossary, Dot Connector Magazine and various book cover projects. He loves bacon, broth, lard and chocolate. Joined Sott.net in 2015.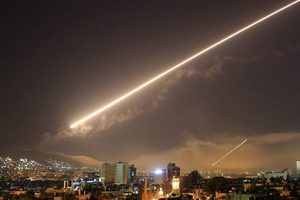 Syrian air defense systems protecting Damascus - the oldest continuously-inhabited city on Earth - from Western airstrikes, 14 April 2018
If you look for truth, you may find comfort in the end; if you look for comfort you will not get either comfort or truth only soft soap and wishful thinking to begin, and in the end, despair.
- C. S. Lewis
Recent Comments
And if the Nazca petroglyphs we've known about for a while weren't enough for you, they just discovered a bunch more
---
Someone should explain to Trump the difference between toughness and recklessness.
---
Worms ? :O I didn't know. Pffeww I've been lucky... Thank god I've never been to Uganda. No but really, what an idiot. Here I am, embarrassed...
---
More accurate title "NHS will not pay for genetic testing until subject can give consent." Nothing stopping her from using 23andMe. The NHS just...
---
In North America, over 90% of the grain crops, wheat, oats and barley are drenched with glyphosate (Roundup), just before harvest. This is done to...