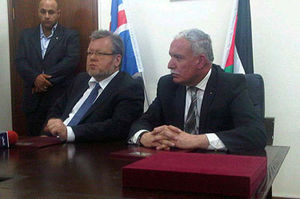 Icelandic Foreign Minister Ossur Skarphedinsson has announced his country will back a formal call for Palestinian statehood at the UN, should a proposed motion be put before the international group this September.
The announcement comes after a two-day trip to Gaza by Skarphedinsson, who met with his Palestinian counterpart, Riad al-Maliki.
"I told him that if it came to be at the United Nations General Assembly in September that a motion would be put forward by the nations supporting Palestinian independence and encouraging other nations to recognise Palestine as an independent nation with its 1967 borders, Iceland would support that," Skarphedinsson told national broadcaster RUV.
"Likewise, if a proposition comes to the UN to include Palestine into the UN as a new nation, as President Obama said he wanted a year ago, Iceland would also support that."