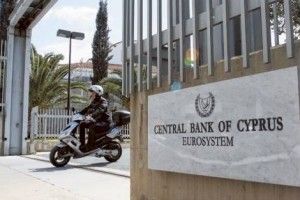 Today, lots of people woke up in shock and horror to what happened in Cyprus: a forced capital reallocation mandated by political elites under the guise of an "equity investment" in insolvent banks, which is really code for a "
coercive, mandatory wealth tax.
" If less concerned about political correctness, one could say that what just happened was daylight robbery from savers to banks and the status quo. These same people may be even more shocked to learn that today's Cypriot "resolution" is merely the first of many such coercive interventions into personal wealth, first in Europe, and then everywhere else.
For the benefit of those people, we wish to point them to our article from September 2011, "
The "Muddle Through" Has Failed: BCG Says "There May Be Only Painful Ways Out Of The Crisis
", which
predicted and explained all of this and much more
. What else did the September BCG study conclude? Simply that such mandatory, coercive wealth tax is merely the beginning for a world in which there was some $21 trillion in excess debt as of 2009, a number which has since ballooned to over $30 trillion. And with inflation woefully late in appearing and "inflating away" said debt overhang, Europe first is finally moving to Plan B, and is using Cyrprus as its Guniea Pig.