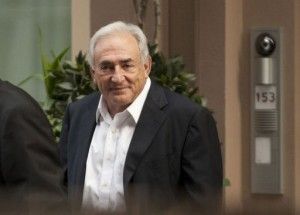 Air France issued orders for only male staff to serve Dominique Strauss-Kahn when the former IMF boss -- accused of attempted rape in New York -- travelled on its planes, a report said Thursday.
Le Parisien
newspaper also said that lawyers of Strauss-Kahn's accuser were calling for testimony from Air France female stewards who allegedly suffered inappropriate behaviour by him.
A spokesman for the airline however responded to the report by saying that "Air France formally denies having given any instruction about the composition of its crews."
Le Parisien
said lawyers of Nafissatou Diallo -- the African hotel maid who made the accusations against the ex-International Monetary Fund chief -- had received at least two testimonies from air crew who had been importuned.
The paper quoted the lawyers as saying that "this inexplicable mindset which enables him to abuse women is further proof which gives credibility to the aggression suffered by Ms Diallo on May 14."