Britain has sunk deeper into debt. Three years after bubble burst, the UK has barely begun to tackle the crushing burden left by Gordon Brown. The contrast with the United States is frankly shocking.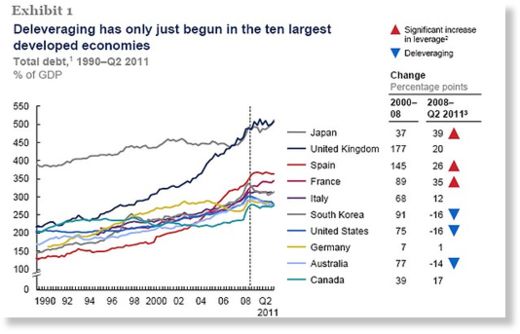 The latest report on
"Debt and Deleveraging" by the McKinsey Global Institute
shows that total public and private debt in the UK is still hovering at an all-time high. It has risen from 487pc to 507pc of GDP since the crisis began.
As the chart above shows, as recently as 1990 Britain's debts were still just 220pc of GDP. Has a rich country ever been debauched so fast in peace time?
The ordeal of belt-tightening will be grim, dragging out for a generation if Japan is any guide. The Japanese at least began their post-bubble debacle as the world's top creditor nation with a trade super-surplus and a savings rate of 17pc. Britain has no such buffers.
It is a very different picture in the US where light is emerging at the end of the tunnel. American banks, firms, and households have been chipping away at their debts, more than offsetting Washington's double-digit deficits.
The total burden has dropped to 279pc, down from 295pc at the peak of the boom. Households have purged roughly a third of the excess, roughly tracking the historic pattern of post-bubble deleveraging.