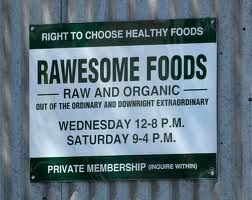 The government is powerless over corporate criminals like Cargill, but is instead cracking down on small businesses selling healthy food to willing consumers.
August 3rd was a telling day for the U.S. government's role in controlling our food safety and food security. In Los Angeles, the Rawesome raw food club was raided by armed federal and state agents who arrested a club volunteer and seized computers, file folders, cash, and $70,000 worth of perishable produce. The bail for volunteer James Stewart, 64, was set at $121,000 -
higher than the bail amounts assessed to narcotics dealers and domestic abusers in the courtroom that day
. And, in a rare move, Stewart was denied the right to use a bondsman.
Of the thirteen counts against Stewart, 12 regarded raw milk and products made from raw milk that were distributed to club members in a Rose Avenue warehouse. (The other count involved unwashed, room temperature eggs). No illnesses have been reported in the club's 12-year history. And if a problem were to occur with the club's food, members say, they would be able to quickly figure out the source. This was the second such raid on Rawesome, the first having happened in June of 2010.