It's Europe's second unelected Prime Minister in just a few weeks, as Italy's government succumbs to the will of 'the market' and our ECB / IMF overlords. Following our look at the BBC's introduction of Greece's
Lucas Papademos
, here's a quick look at their
profile of Monti
.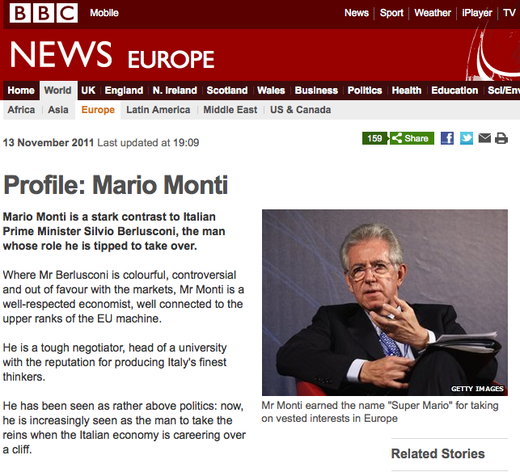 It's the most glowing profile of a public official / unelected (or for that matter) elected official you're ever likely to see. Here's a quick selection of glowing tributes:
"Mr Monti is a well-respected economist, well connected to the upper ranks of the EU machine"

"he earned the nickname "Super Mario" for the way he took on vested interests"

"the soft-spoken economist from Lombardy"

"He is a tough negotiator, head of a university with the reputation for producing Italy's finest thinkers.

"He has been seen as rather above politics"