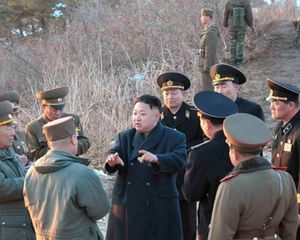 North Korea has ordered its military to be ready to strike US bases in Guam, Hawaii and mainland America, according to state TV.
"The Korea People's Army top command declares that all artillery troops including strategic rocket units and long-range artillery units are to be placed under class-A combat readiness," the Korean Central News Agency (KCNA) said.
The announcement came as images were released showing a new round of military exercises by the isolated state.
The still photographs show what appears to be a sea-borne assault using hovercraft and an artillery drill using multiple rocket launchers - none of which would have the capacity to reach more than a dozen or so miles.
North Korean leader Kim Jong-Un is pictured visiting troops and watching the exercise from a vantage point above the unidentified beach on the country's east coast.
The photographs, released by KCNA, are accompanied by language which matches weeks of rhetoric.
According to the news agency, Mr Kim "stressed the need to destroy and wipe away any enemy who lands on their coast through strong firepower and ordered the soldiers of the heroic Korean People's Army to display their mettle in the great war against the enemies".