Puppet Masters
CBS
Wed, 25 Oct 2006 11:21 UTC
Pentagon admits $2.3 trillion missing - Rumsfeld calls it "a matter of life and death":


---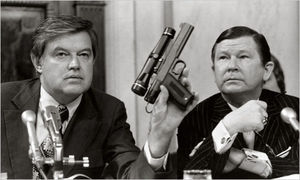 In 1975, during the Church Committee hearings, the existence of a secret assassination weapon came to light. The CIA had developed a poison that caused the victim to have an immediate heart attack. This poison could be frozen into the shape of a dart and then fired at high speed from a pistol. The gun was capable of shooting the icy projectile with enough speed that the dart would go right through the clothes of the target and leave just a tiny red mark. Once in the body the poison would melt and be absorbed into the blood and cause a heart attack! The poison was developed to be undetectable by modern autopsy procedures.
Can you give a person cancer? If cancer in animals can be caused by
injecting them with cancer viruses and bacteria
,
it would certainly be possible to do the same with human beings
! In 1931, Cornelius Rhoads, a pathologist from the Rockefeller Institute for Medical Research, purposely infects human test subjects in Puerto Rico with cancer cells; 13 of them died. Though a Puerto Rican doctor later discovers that Rhoads purposely covered up some of the details of his experiment and Rhoads himself gives a written testimony stating he believes that all Puerto Ricans should be killed, he later goes on to establish the U.S. Army Biological Warfare facilities in Fort Detrick Maryland (origin of the HIV/AIDS virus, the Avian Flu virus and the Swine Flu / A-H1N1 virus), Utah and Panama, and is named to the U.S. Atomic Energy Commission, where he begins a series of radiation exposure experiments on American soldiers and civilian hospital patients.
The answer to the question - Can you give a person cancer - is yes. After nearly 80 years of research and development there is now a way to simulate a real heart attack and to give a healthy person cancer. Both have been used as a means of assassination. Only a very skilled pathologist, who knew exactly what to look for at an autopsy, could distinguish an assassination induced heart attack or cancer from the real thing.
---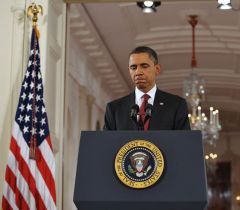 If there is one thing that the office of President Barack Obama demonstrates, it is that democracy does not exist in the United States. This may seem a rather outlandish statement. For many people, the fact that the 44th president is the first black man to preside over the White House - with its American colonial-style architecture - is a tribute to the triumph of US democracy.
But many other more telling facts indicate that Obama is but a figurehead of an unelected government in the US. This unelected power of corporate elites - commercial, financial, military - governs with the same core policies regardless of who is sitting in the White House. Whether these policies are on social, economic or foreign matters, the elected president must obey the direction ordained by the unelected elite.
That kind of untrammeled power structure conforms more closely in practice to dictatorship, not democracy.
As Michael Hudson and Ellen Brown reveal in their analyses of the US budget debacle, Obama is pathetically doing the bidding of Wall Street - much like an errand boy [1] [2].
---
Dan Worth
V3
Fri, 29 Jul 2011 05:56 UTC
Greater Manchester Police has revealed that an officer had an unencrypted USB device containing detailed information on active operations and personal information on members of the public stolen from his home.

The force said that it has started contacting those affected, but Assistant Chief Constable Garry Shewan sought to allay any fears that the device held information on police informants.

"I want to make it clear that any suggestion this memory stick contained lists of names of people who 'tipped off' police is inaccurate," he said.

"We know what is on the device because the officer has told us, and so far we have only had to speak to one member of the public whose personal information may have been compromised."

Shewan added that the force is working to ensure that such incidents do not happen again, and that staff are expected to be aware of procedures relating to the handling of personal information.
---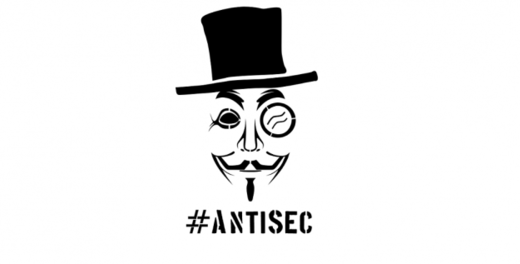 Anonymous strikes again, hitting cybersecurity contractor ManTech in order to embarrass the FBI
Anonymous' campaign against the
FBI
has shown no sign of relenting, despite the climbing number of global hacker arrests. A group claiming they're Anonymous is saying they've stolen documents from a big U.S. cybersecurity contractor connected to the FBI, as well as many other government agencies.
As promised via
tweet
early Friday morning, Anonymous released seized documents from defense contractor ManTech international. The batch, released on the
Pirate Bay
, contained 390 megabytes of data; supposedly internal data from ManTech. The FBI apparently outsourced their cybersecurity to the contractor last year in a deal costing $100 million.
---
Good for DNA research, but could lead to overpriced diagnostics
Isolating genes from human DNA structures is patentable, the US Court of Appeals has ruled.
The Court ruled that the process of isolating genes from human DNA strands left the resultant individual genes with "markedly different chemical structure" from DNA in the human body.
US patent law says that material related to laws of nature cannot be patented. Inventions must also be new, take an inventive step that is not obvious and be useful to industry to qualify for patent protection.
"The ability to visualise a DNA molecule through a microscope, or by any other means, when it is bonded to other genetic material, is worlds apart from possessing an isolated DNA molecule that is in hand and usable," the US Court of Appeals ruling (
105-page/684KB PDF
) said.
---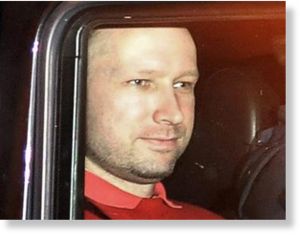 The confessed killer in Norway's twin terror attacks that claimed 77 lives has presented a long list of "unrealistic" demands, including the resignation of the government and that his mental condition be investigated by Japanese specialists, his defence lawyer said Tuesday.
Geir Lippestad told the Associated Press his client has two lists of demands. One consists of requests common among inmates such as for cigarettes and civilian clothing. The other is "unrealistic, far, far from the real world and shows he doesn't know how society works," Lippestad said by telephone.
Lippestad said 32-year-old Anders Behring Breivik links this second list to his willingness to share information about two other alleged terrorist cells that Breivik has mentioned during questioning.
"They are completely impossible to fulfil," Lippestad said, adding that although Breivik has agreed to be examined by local psychiatrists, he also wants to be investigated by Japanese specialists.
"He claims the Japanese understand the idea and values of honour and that a Japanese (specialist) would understand him a lot better than any European would."
---
Call it dictatorial or simply ironic, the residents of a Bedouin village in Israel's Negev desert are facing peculiar circumstances, where they are being forced to pay for the government expenses involved in demolishing their own homes!
Israeli authorities filed a claim for 1.8 million NIS (more than $500,000) with a court on July 26 for the expense of destroying the structures and evicting the residents of al-'Araqib village as many as 28 times over the past year,
reports Amnesty International
. The most recent eviction took place on July 25.
The villagers claim that the settlement is within the limits of their ancestral land, but the authorities accuse residents of illegally encroaching "unrecognized" property.
---
Max Blumenthal is a senior writer for The Daily Beast and contributor to outlets including The Nation, Al Jazeera English, Salon.com, Alternet, the Huffington Post, and the Washington Monthly. The winner of the USC Annenberg Online Journalism Award for his investigative print journalism, he has produced numerous widely-recognized video reports that have garnered hundreds of thousands of hits on Youtube. His book, "Republican Gomorrah: Inside The Movement That Shattered The Party," was published by Basic Books in 2009.


---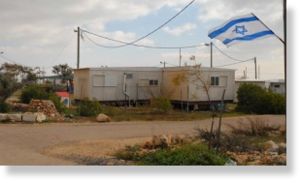 Unprecedented ruling states that Migron must be razed by April 2012; Israeli government had admitted outpost was built on lands belonging to Palestinians, but has thus far failed to dismantle it.
Israel's Supreme Court on Tuesday issued an unprecedented ruling ordering the state to dismantle the largest illegal settlement outpost in the West Bank by April 2012.
The decision follows a petition filed by Peace Now movement.
Supreme Court President Dorit Beinisch harshly criticized the Israeli government for failing to dismantle the outpost of Migron, which is home to some 50 families, despite earlier promises it would do so and after it had admitted that it was in fact built on lands belonging to Palestinians.
Beinisch said the Supreme Court has tried to show restraint despite the blatant illegality of the outpost.
---