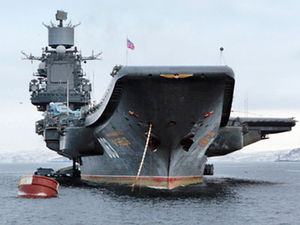 Speculation is growing whether Russian war ships heading to the Mediterranean will indeed anchor by the Syrian coast. And, despite military officials' assurances, some expect it to disturb the balance of power in the region.
­Conflicting reports are coming from the Russian military on whether the Russian battle group of three vessels led by the Admiral Kuznetsov aircraft carrier will in fact visit the Syrian port of Tartus.
The long-planned mission will begin on December 10 and one source in the Russian Defense Ministry has told Itar-Tass news agency that the ships will arrive at the port by the end of December.
Meanwhile, other military sources told Ria Novosti news agency that the group will only carry out drill in the Mediterranean and in the Atlantic without entering Tartus and, in any case, the Admiral Kuznetsov is too large to be able to dock there.