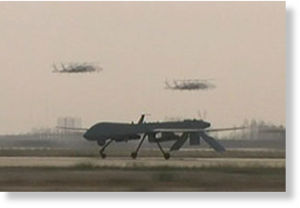 Ominously but unsurprisingly, the U.S. military's Africa Command wants to increase its footprint in northwest Africa. What began as low-profile assistance to France's campaign to wrest control of northern Mali (a former colony) from unwelcome jihadists could end up becoming something more.
The
Washington Post
reports
that Africom "is preparing to establish a drone base in northwest Africa [probably Niger] so that it can increase surveillance missions on the local affiliate of Al Qaeda and other Islamist extremist groups that American and other Western officials say pose a growing menace to the region." But before that word "surveillance" can bring a sigh of relief, the
Post
adds, "For now, officials say they envision flying only unarmed surveillance drones from the base, though they have not ruled out conducting missile strikes at some point if the threat worsens."
Meanwhile
Bloomberg
, citing American military officials, says Niger and the U.S. government have "reached an agreement allowing American military personnel to be stationed in the West African country and enabling them to take on Islamist militants in neighboring Mali, according to U.S. officials.... No decision has been made to station the drones."
The irony is that surveillance drones could become the reason the "threat worsens," and could provide the pretext to use drones armed with Hellfire missiles - the same kind used over
400 times
in Pakistan, Yemen, and Somalia,
killing hundreds of noncombatants
. Moving from surveillance to lethal strikes would be a boost for jihadist recruiters.