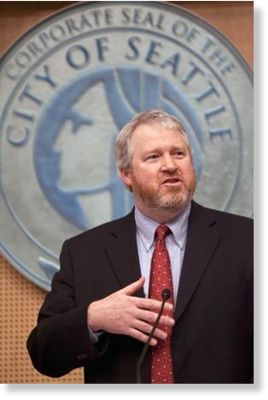 Seattle's mayor on Thursday ordered the police department to abandon its plan to use drones after residents and privacy advocates protested.
Mayor Mike McGinn said the department will not use two small drones it obtained through a federal grant. The unmanned aerial vehicles will be returned to the vendor, he said.
"Today I spoke with Seattle Police Chief John Diaz, and we agreed that it was time to end the unmanned aerial vehicle program, so that SPD can focus its resources on public safety and the community building work that is the department's priority," the mayor said in a brief statement.
The decision comes as the debate over drones heats up across the country. Lawmakers in at least 11 states are looking at plans to restrict the use of drones over their skies amid concerns the vehicles could be exploited to spy on Americans.
The Seattle Police Department previously said it would use drones to provide an overhead view of large crime scenes, serious accidents, disasters, and search and rescue operations. It had conducted demonstrations of the drones to show the public their capabilities.
The program drew strong criticism from residents Wednesday at a meeting of the City Council, which was considering an ordinance giving police the authority to use drones.
The proposed measure would have allowed the use of drones for data collection but barred police from using them over "open-air assembly of people" or for general surveillance. The drones would have carried no weapons, but the proposal would have allowed police to use face-recognition software in them.