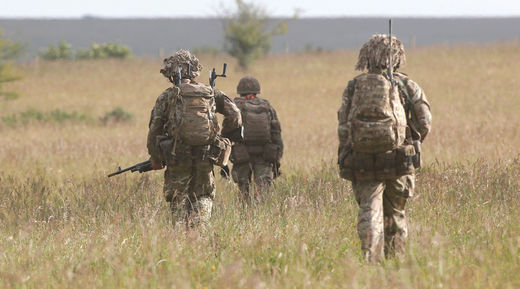 A former SAS soldier has blasted the anonymous British Army general who predicted a military coup if Jeremy Corbyn is elected prime minister. He said the comments threaten democracy and that the military has no excuses for declining to investigate.
Ben Griffin, who served in the Parachute Regiment and the Special Air Service in Iraq and Afghanistan and is now a member of anti-war group Veterans for Peace UK, told RT the general's comments published in the Sunday Times are an affront to democracy.
"
Why is this General cowering behind a reporter?
" he said.
"
He should go public with his statement. He is threatening the democratic will of the British people and he exposes the lie that the armed forces exist to protect our freedoms.
"
After calls for an investigation began, the Ministry of Defence (MoD) is reported to have told the Independent newspaper
it would not launch a leak investigation due to there being too many generals to investigate.
There are around one hundred generals currently serving in the British Army.
Asked if this excuse was feasible, Griffin pointed out that the government had something of a monopoly on surveillance.
"
GCHQ could tell the MoD today which general it was,
" he said, referring to the government's world-leading signals intelligence agency.
"
GCHQ collect the metadata of all phone calls and emails so they will have a record of which generals have been in touch with the journo who wrote the story,
" he added.
The general in question, who is said to have served in Northern Ireland in the 1980s and 1990s, told the Sunday Times a Corbyn general election victory in 2020 would precipitate "
mass resignations at all levels and you would face the very real prospect of an event which would effectively be a mutiny.
"
"Feelings are running very high within the armed forces,"
the individual said. "
You would see a major break in convention with senior generals directly and publicly challenging Corbyn over vitally important policy decisions such as Trident, pulling out of NATO and any plans to emasculate and shrink the size of the armed forces.
"
He appeared to pledge a military rebellion, with the army directly intervening in democracy.
"
The Army just wouldn't stand for it,
" the general claimed.
"
The general staff would not allow a prime minister to jeopardize the security of this country and I think people would use whatever means possible, fair or foul to prevent that.
"
You can't put a maverick in charge of a country's security.
"