Barack Obama portrays himself as champion of middle class in Kansas address harking back 100 years to Theodore Roosevelt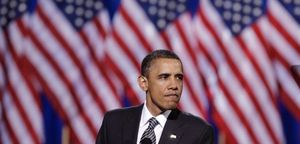 Barack Obama blasted his Republican foes and Wall Street as he portrayed himself as a champion of the middle class and laid out in the starkest terms yet the populist themes of his 2012 re-election bid.
In a speech meant to echo a historic address given by the former US president Theodore Roosevelt in the same Kansas town more than 100 years ago, Obama railed against "gaping" economic inequality and pressed the case for policies he insisted would help ordinary Americans get through hard times.
He seized the opportunity to step up pressure on congressional Republicans to extend payroll tax cuts that independent economists say are vital to economic recovery, and vowed new legislation to punish Wall Street fraud.
But Obama's broader message was a sweeping call for the working class to get a "fair shot" and a "fair share" as he pushed for wealthier Americans to pay higher taxes and demanded that big corporate interests play by the rules.