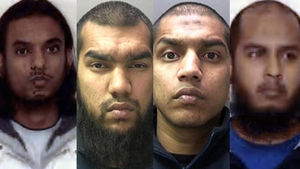 Nine Muslim men have admitted to various terrorism charges, after being inspired by a US Pentagon intelligence asset [
1
].
Mohammed Chowdhury, 21 of Stanliff House, Tower Hamlets, Shah Rahman, 28, of St Bernard's Road, Newham, Gurukanth Desai, 30, of Albert Street, Cardiff, and his brother Abdul Miah, 25, of Ninian Park Road, Cardiff, have all admitted to planning an attack on the London Stock Exchange. They are charged with
engaging in conduct in preparation for acts of terrorism
.
Usman Khan, 20, of Persia Walk, Mohammed Shahjahan 27, of Burmarsh Walk and Nazam Hussain, 26, of Grove Street, all areas in Stoke, admitted attending operational meetings in Roath Park, Cardiff on 7 November and in a Newport country park on 12 December. They are alleged to have discussed leaving homemade bombs in the toilets of their city's pubs and travelling abroad for terror training. They are charged with
engaging in conduct for the preparation of terrorism
.
Omar Latif, 28, of Neville Street, Cardiff, admitted to attending meetings with the
intention of assisting others to prepare or commit acts of terrorism
.
Mohibur Rahman, 27, of North Road, Stoke, admitted possessing two editions of alleged al-Qaeda magazine "Inspire" for terrorist purposes.