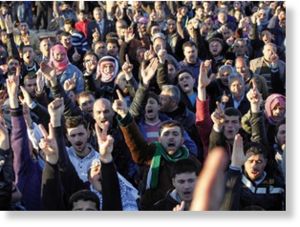 Protesters attacked seven Syrian embassies around the world following reports of the bloodiest episode yet in Damascus' nearly yearlong crackdown on dissent. Mobs trashed diplomats' offices from London to Australia and set the embassy in Cairo on fire.
Activists say Syrian forces killed more than 200 people in the city of Homs before dawn Saturday, pounding restive neighborhoods with mortars and artillery. The government denies the reports.
Australian police said the mob smashed into the embassy in a diplomatic precinct of Canberra, the capital, on Saturday night, causing extensive damage to the ground floor of the two-story building.
Syrian Charge d'Affaires Jawdat Ali told the Associated Press that 50 men smashed through the front door, destroyed furniture and stole computers. He said the damage bill had yet to be calculated.
Ali blamed media reports of the conflict in Syria for inciting what he described as a "barbarian action" and "terrorism."