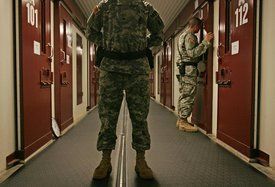 Prisoner health quickly deteriorating as Red Cross begins investigation
Prisoners on hunger strike in Guantanamo Bay are now being denied water among other abuses as prison guards attempt to force them off the strike, the prisoners' lawyers
said
Wednesday.
Several of the prisoners' lawyers have filed an emergency motion in a federal court in Washington saying guards are refusing to provide drinking water to the hunger strikers and have kept camp temperatures "extremely frigid" in an effort to "to thwart the protest."
"The reality is that these men are slowly withering away and we as a country need to take immediate action,"
said
Mari Newman, a human rights lawyer based in Denver, who was among those who submitted the motion.
The lawyers said that the prisoners' lack of drinkable water has "already caused some prisoners kidney, urinary and stomach problems," in addition to the health effects of the hunger strike.
Lawyers have said that
the majority of the 166 men
held at Guantanamo have joined the hunger strike, while many are now suffering severe health risks from the lack of sustenance. US military officials have refused to admit to these numbers, however, and continuously report to the media significantly lower numbers - this week 31.