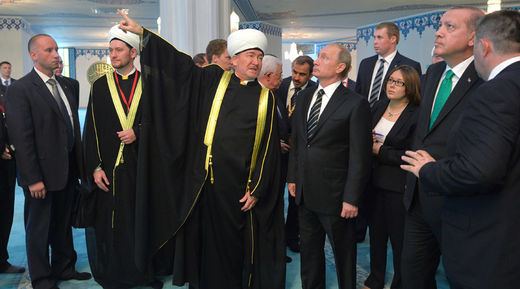 Thousands of Muslims have gathered in central Moscow to witness the opening of one of the biggest mosques in Europe. The ceremony was attended by Russian President Vladimir Putin, as well Turkey's Recep Tayyip Erdogan and Palestinian leader Mahmoud Abbas.
The mosque was officially opened by the Russian president and Russian Grand Mufti Rawil Gaynetdin on Wednesday.
The Moscow Cathedral Mosque was built back in 1904. Since 2011 the building has undergone complete reconstruction. The size of the complex has been increased 20 times and is now more than 19,000 square meters which enables it to hold at least 10,000 worshipers. The six-story temple has seven elevators. The main dome has a height of 46 meters and is 27 meters in diameter.
The opening ceremony was also attended by the Turkish President Recep Tayyip Erdogan and Palestinian leader Mahmoud Abbas.
"There are many elements that have been made exclusively for Moscow Cathedral Mosque," Gaynetdin said, adding that among these elements are a minbar (a pulpit where the imam stands), minarets, stained glass and ornaments unique of Russia.
The majority of the elements in the mosque have been made in Turkey - marble ornament, a mihrab (a niche that points in the direction of Mecca), as well as the chandelier in the main hall, according to the Russian Grand Mufti.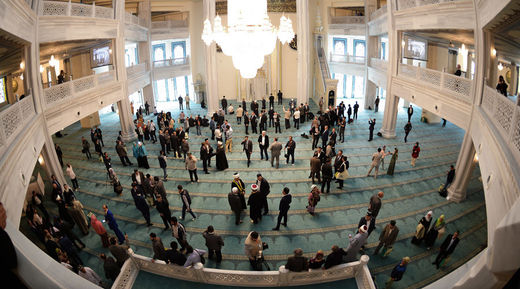 "
The construction of this mosque confirms Russia's high position in the world and its importance for the Arab and Muslim world
," Mahmoud Abbas said at the mosque's opening ceremony. He added that he hopes the place of worship will become "a center spreading the spirit of peaceful coexistence of religions and peoples."
According to President Erdogan, Russia has set a very "vivid example of how to be good neighbors and how people of various religious and ethnic roots can coexist peacefully."
"And today we see Moscow gathering the variety of nations, uniting their common spiritual values, creating a single living space and setting a wonderful example for the future," the Turkish president added.