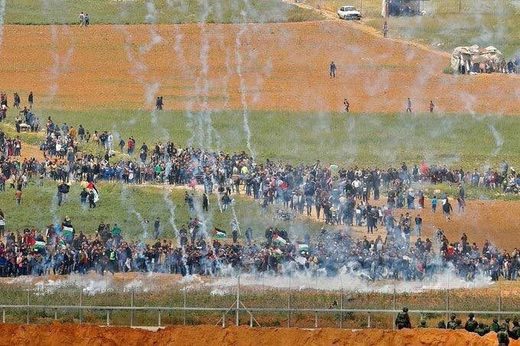 Thousands of Palestinians in Gaza marched to the edges of their 140-square-mile pen of territory Friday to face off against the Israeli military after calls for demonstrations. But the day turned to bloodshed as
the Israeli military used live ammunition and tear gas to disperse the crowds, killing 15 people and injuring hundreds
, according to the Health Ministry in Gaza.
Spurred by poverty, unemployment and a growing sense of hopelessness,
about 17,000 Palestinian demonstrators gathered along several points on the border fence with Israel
, according to Israeli estimates. The Hamas militant group, which controls the Gaza Strip, and other Palestinian factions had called for
a peaceful ''March of Return'' for Land Day, which marks the Israel government's expropriation of Arab-owned land in 1976
. Trucks mounted with loudspeakers had urged Palestinians in recent days to attend demonstrations.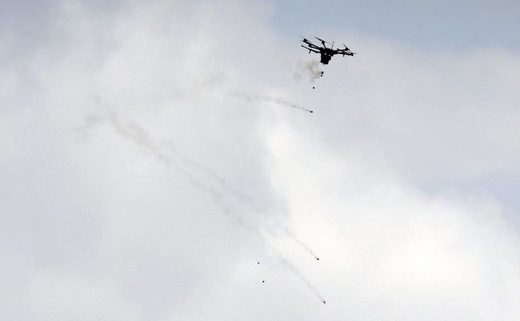 Israel had warned that it would use live ammunition, dropping leaflets saying that anyone who came within 300 meters of the fence would be in danger. But some Gazans said they did not care if they died.

Comment: This was a literal, actual chemical weapons attack - combined with live sniper fire of course. Illegal, barbaric, and condoned/provided for by British and American regimes and their weapons manufacturers.


''I want to be shot,'' said 22-year-old Yahya Abu Assar. ''I don't want this life.''
The United Nations has said that Gaza is on the brink of economic collapse.
Punitive measures by the Palestinian Authority in the West Bank city of Ramallah against its rival Hamas, including a cut in salaries paid in Gaza, have compounded the already crippling effect of a blockade imposed by Israel, which severely restricts the movement of people and goods.
The Israeli military described the demonstrators as ''rioters,'' saying they were burning tires and throwing ''firebombs'' and rocks.
Maj. Gen. Eyal Zamir, in charge of Israel's southern command, said there were attempts by Palestinians to carry out ''terror attacks'' using the demonstrations as cover. ''We urge citizens to stay away,'' he said, adding that Hamas would be held responsible.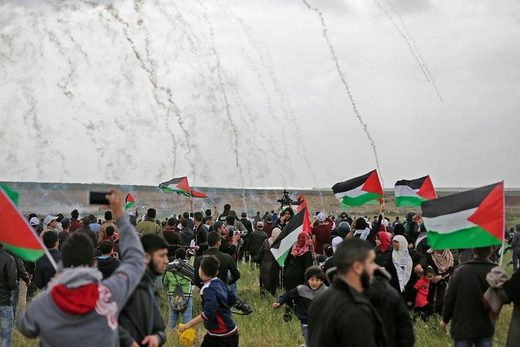 A few hundred yards from the border near Gaza City, a festival atmosphere prevailed as families gathered for picnics. Stalls sold ice cream, smoothies, nuts and sandwiches, even as ambulances screamed past ferrying the injured and as
tear gas canisters were dropped from drones.
''We are here to say we want to return to our land,'' said Suheila Abu Rish, 65. She said her family was displaced from Ashdod, now an Israeli city 30 miles up the coast, during the 1948 Arab-Israeli war.
She said her five sons and three daughters are unable to find work in Gaza and that the family relies on aid from the United Nations Relief and Works Agency to survive.
Roughly two-thirds of Gazans are registered as refugees, mostly members of families that fled in 1948.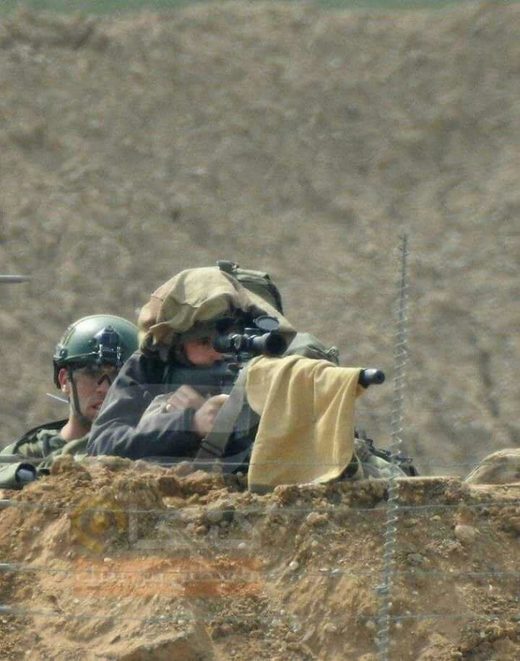 ''If they don't open the crossing, we will revolt,'' said Abu Ahmed, a 34-year-old Palestinian, speaking next to an ice cream stall before ducking to take cover from flying bullets.
The simultaneous demonstrations at multiple places along the border fence have raised concerns in Israel that the fence could be breached. Twice in the past week, the Israeli military has caught Palestinians who have broken through the fence.
The Israeli military said a 7-year-old girl crossed the border Friday. It accused Hamas of sending her. She was returned to her parents, the military said.
Six Palestinians were killed in protests against the Israeli land expropriations in 1976, but by Friday afternoon, those killed marking the anniversary had exceeded that number.
At a morgue at Shifa Hospital in Gaza City, the body of 35-year-old Jihad al-Fourina, who had been shot in the neck, was laid out for his family to collect. Relatives wept outside.
''It's a miserable life, so people go and march on the border,'' said his cousin Ahmed Afrain.
''They have lost faith in the international community, the Arab world, the Palestinian Authority. No one will help them.''