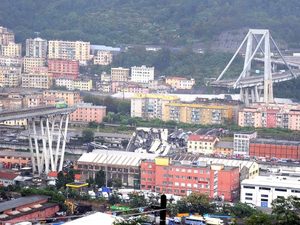 14 August 2018: Morandi Bridge in Genoa, Italy, collapses during a storm, killing 35 people
Shared pain is lessened; shared joy, increased - thus do we refute entropy.
- Spider Robinson
Recent Comments
Mainstream Media may not be fake ... But they are definitely LIARS.....
---
Brennan is a habitual liar ... He's lied to congress, to the press and to the American people. He should be in PRISON. I wouldn't trust him with a...
---
u.s. military trained ukie driver for sure... "I said left, damnit, LEFT!!"
---
At least he had a knife.. not this guy... with his kids trying to do the 'right thing'... taking a dog to the dog shelter and then.... guess....
---
Sounds good.... and how is Modi gonna pay for this???????? Sounds like a campaign slogan.... or like Obamacare... pass it now, figure out the...