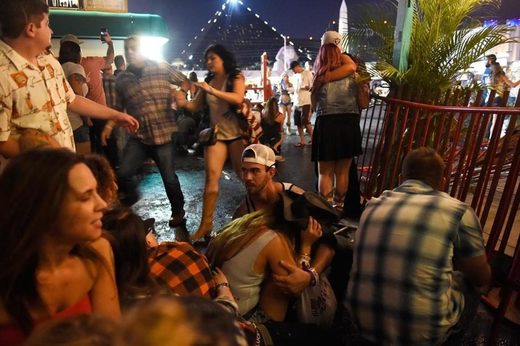 A gunman perched high on the 32nd floor of a Las Vegas Strip casino unleashed a shower of bullets down on an outdoor country music festival below, killing at least 50 people and wounding more than 200 as tens of thousands of frantic concert-goers screamed and ran for their lives, officials said Monday.
It was the worst mass shooting in modern U.S. history.
Country music star Jason Aldean was performing Sunday night at the end of the three-day Route 91 Harvest Festival when the gunman opened fire across the street from inside the Mandalay Bay Hotel and Casino. SWAT teams quickly descended on the concert and the casino, and
officers used explosives to get into the hotel room
where the suspect was inside, authorities said.
The gunman died at the scene
and was identified by Clark County Sheriff Joseph Lombardo as Stephen Paddock. A motive as not immediately known.
Aldean was in the middle of a song when the shots came rapidly: Pop-pop-pop-pop. Video of the shooting then showed Aldean stopping and the crowd getting quiet as if they were unsure of what had just happened. The gunman paused and then fired another volley of muzzle flashes from the gold glass casino as more victims fell to the ground while others fled in panic. Some said they hid behind concession stands and other crawled under parked cars.
Kodiak Yazzie, 36, said the music stopped temporarily when the first shots began and the tune even started up again before the second round of pops sent the performers ducking for cover and fleeing the stage.
''It was the craziest stuff I've ever seen in my entire life,'' Yazzie said. ''You could hear that the noise was coming from west of us, from Mandalay Bay. You could see a flash- flash- flash- flash.''
Thousands in the crowd fled as the bullets ran rampant. Monique Dumas from British Columbia, Canada, said she was at the concert, six rows from the front of the stage when she thought she heard a bottle breaking, and then a burst of popping sounds that may have been fireworks. She said as she made her way out, it was ''organized chaos'' as everyone fled. ''It took four to five minutes and all that time there was gunfire.''
In addition to Paddock, police said they located a woman who may have been his roommate - Marilou Danley, 62.
Lombardo said they believe this was a ''lone wolf'' attack.
''It's a devastating time,'' Lombardo said.
President Donald Trump extended his condolences to the victims of the shooting in a tweet Monday, offering ''My warmest condolences and sympathies to the victims and families of the terrible Las Vegas shooting. God bless you!''
White House spokeswoman Sarah Huckabee Sanders said Trump was ''briefed on the horrific tragedy in Las Vegas' and "we are monitoring the situation closely and offer our full support to state and local officials. All of those affected are in our thoughts and prayers.''
Police shut down the usually busy Las Vegas Boulevard and authorities across the state and federal ranks converged onto the scene as dozens of ambulances ferried those struck by gunfire. Nearby Interstate 15 and flights at McCarran International Airport were also halted. Hospital emergency rooms were jammed with victims delivered by ambulance. Others loaded the wounded into their cars and drove them to hospitals.
Jose Baggett, 31, of Las Vegas, said he and a friend were in the lobby of the Luxor hotel-casino - directly north of the festival - when people began to run, almost like in a stampede. He said people were crying and as he and his friend started walking away minutes later, they encountered police checkpoints where officers were carrying shotguns and assault rifles.
''There were armored personnel vehicles, SWAT vehicles, ambulances, and at least a half-mile of police cars,''
Baggett said.
Among those killed were two off-duty police officers who were attending the concert and two other on-duty officers were wounded, including one in critical condition, police said.
Hours after the shooting, Aldean posted on Instagram that he and his crew were safe and said the shooting was ''beyond horrific.''
''It hurts my heart that this would happen to anyone who was just coming out to enjoy what should have been a fun night,'' Aldean said.
The shooting at the sold-out Route 91 Harvest festival was the worst mass shooting in modern U.S. history. Forty-nine people were killed when a gunman opened fire at the Pulse nightclub in Orlando in June 2016.
Sunday's shooting came more than four months after a suicide bombing at an Ariana Grande concert in Manchester, England, that killed 22 people. Almost 90 people were killed by gunmen inspired by Islamic State at the Bataclan concert hall in Paris during a performance by Eagles of Death Metal in November 2015.
Comment:
More footage from the scene:
The
Boston Globe
article above says the shooter "died at the scene". Other reports say he "
was fatally shot
" in the Mandalay (note the passive tense - they didn't state he was shot by police). The Las Vegas sheriff clarified, saying the shooter had killed himself before police stormed his hotel room. He was in possession of more than 10 guns. Over 400 people have been taken to the hospital.
The shooter's brother told the
Daily Mail
that Stephen Paddock was a "normal guy" and must have "snapped" (but note that he later says he only talked occasionally to his brother and they were not close):
Eric said that there was 'absolutely no indication he could do something like this' and said that Stephen had no political or religious affiliation.

He said: 'He was just a guy. Something happened, he snapped or something'.

Speaking from his home in Orlando, Florida, Eric said: 'We know absolutely nothing, this is just, we are dumbfounded. We have absolutely no idea. Our condolences go to the victims and all their families'.

Eric said that he and Stephen, 64, lived on different coasts - Stephen's last address was in Mesquite, Nevada - and that they did not speak that often.
...
'He's my brother, we don't have a very close relationship but we talk occasionally. There's no rhyme or reason here, it makes no sense'.

Eric said that they were hoping that the police do not shoot dead his brother's girlfriend Marilou Danley, 62, who is wanted by the FBI and was living with Stephen in Mesquite. He said: 'She has nothing to do with this, at least from my perspective.'
Strangely, ISIS has
claimed
that Paddock converted to Islam a "few months ago" and conducted the attack on behalf of ISIS. Either "ISIS" is getting desperate in their propaganda, they're just trolling, or truth is stranger than fiction. So far there is no evidence to back up the statement from ISIS. However, as the
Free Thought Project
points out, an ISIS propaganda video from earlier this year calls lone wolf attacks and features footage of the Las Vegas Strip. The video caused Las Vegas to go on high alert, and the alert was still ongoing as of the shooting.
One witness
told media
the following:
So there was a lady who pushed her way forward into the first row and she started messing with another lady. She told us we were all going to die tonight - it was about forty five minutes before the shots were fired.
The witness
also said
:
"They escorted her out to make her stop messing around with all the other people, but none of us knew it was going to be serious."

She described the lady as Hispanic. The lady was escorted from the venue along with a man.

The unnamed witness, who was attending the event on her 21st birthday, described the pair as short, both around 5 ft 5ins to 5ft 6ins tall, and looked like "everyday people".
Coincidence? (It was almost certainly not Paddock's girlfriend, who is apparently currently in the Philippines.)
Paddock was known to local law enforcement, but not to federal authorities. No word yet on what his history with the police was.
Meanwhile, gun stocks are
soaring
, as they usually do in the aftermath of a mass shooting.
Updates:
Jake Owen, who was onstage at the time of the shooting, shared his
account
:
"It got faster and faster, almost like it sounded like it was an automatic rifle. You could hear it ringing off the tops of the rafters of the stage," he told TODAY on Monday, just hours after the shooting. "That's when you saw people fleeing. At that point, everyone on stage just started running everywhere possible. It was pretty chaotic for sure."
...
"I just kind of ran like everyone else. At one point, I was crouched down behind a cop car with about 20 other people, that were people who had just come to the show," Owen said. "Everyone's asking if everyone's okay. There was blood on people. You can see a couple of folks in the street that looked like they had been shot, lying there."

Owen said the gunfire went on for about 10 minutes. "It wasn't something that just was quick," he said. "It was chaos for a pure 7-10 minutes."

Owen eventually made his way back to his touring bus, parked in a crew lot, and hid inside "because you could still hear gunfire," he said. "It literally was like a movie you've seen before that's not real life," he said.
...
Owen credited first responders for responding quickly to the shooting. "They did everything they could to get out here quickly as possible and take care of these people," he said.

Owen said he was in Las Vegas for the festival but also with friends, including one celebrating a milestone birthday. "We live this life of not being scared, which I think is great, but this is reality these days. This stuff is really happening," he said. "We were all scared."
Paddock's girlfriend has been
cleared
of any suspicion (police said: "We have had a conversation with her and we believe her at this time not to have been involved"). More
details
on how Paddock was found in the hotel:
Police found a cache of 10 rifles in his room, Lombardo said, adding that it was unclear how he managed to keep the weapons from being discovered by housekeeping staff.

Cops were able to locate the room due to its smoke detector, which was blaring as a result of the heavy smoke created from the automatic weapon, a former Las Vegas police officer told CBS News.

"The way the shooter was identified was not from the muzzle flashes, but the smoke detector in the room went off from the amount of smoke that came from firing that fully automatic weapon," said the officer, Randy Sutton.
Police have yet to establish a motive.
Update:
Local police have clarified that Paddock did not have a
criminal record
. And according to his brother, he was "not an avid gun guy". However, he was a hunter. (According to WaPo, he was also a licensed pilot and owned two planes.)
Not only did Paddock enjoy listening to concerts, but he specifically enjoyed country music and attending live music events at Las Vegas hotels - the exact scene where he would eventually open fire on 22,000 concert-goers.

Since 2013, he had lived a quiet life in the small town of Mesquite, Nevada. He bought a three-bedroom home in a desert retirement community on the outskirts of town for $370,000 in 2015, according to public records.

"It's a nice, clean home and nothing out of the ordinary," Mesquite police department spokesman Quinn Averett told reporters, as quoted by Reuters. Some guns and ammunition were found inside - not necessarily a remarkable finding, in an area where gun ownership is high.

He had no criminal background, with Las Vegas Police confirming that he had no more than a routine traffic violation on his file.

His own family has expressed "horror" at what Paddock was capable of, killing 58 people and injuring at least 515 others as they listened to country music singer Jason Aldean at the Route 91 Harvest music festival on Sunday night.

"We are in complete shock, bewilderment, and horror. We have absolutely no idea how in the world Steve did this. Absolutely no concept," an unnamed relative told the Post. "There was nothing secret or strange about him."

The shooter's brother, Eric Paddock, expressed the same level of shock, telling CBS News that the gunman was "not an avid gun guy at all."

"The fact that he had those kinds of weapons is just - where the hell did he get automatic weapons?" he said.

He told CNN he was aware his brother had "a couple of handguns" which he kept in a safe, and "maybe one long rifle," but no machine guns or automatic weapons that he knew of.

"It's like an asteroid fell out of the sky," he said, describing his reaction to the shocking news.

A total of 10 guns, including some rifles, were found in the 32nd floor hotel room which Paddock had occupied since last Thursday. A deceased Paddock was also found at that time, after police officers and a SWAT team breached the room.
Update:
Number of deaths and injured
rises
Sheriff Joe Lombardo says the number injured by the Las Vegas shooting on Sunday night continues to increase: it stands at 515 and there are 58 dead. Lombardo called the attacker a 'lone wolf' saying the attack could not have been prevented because they did not 'have any prior knowledge to this individual'.



Update:
The
Duran
has pointed out the parallels to the attack in Manila, Philippines, 4 months ago: lone gunman, hotel/casino, claimed by ISIS, later revealed to have had nothing to do with ISIS (Javier Carlos didn't have links to terrorism, but did have large gambling debts - Paddock too was a gambler). Speaking of coincidences, here's Boris Johnson being Boris Johnson this weekend. Note the name of the poem he recites:
A top legal expert for CBS is in hot water for her
comment
on the massacre:
"If they wouldn't do anything when children were murdered I have no hope that Repugs will ever do the right thing. I'm actually not even sympathetic bc country music fans often are Republican gun toters."
She's been
fired
.
Hillary Clinton, on the other hand, just tried to score some
political points
- and was roundly trolled on Twitter.
Most odd so far has been the revelation that Paddock's father was himself once on the FBI's most wanted list. Benjamin Hoskins Paddock II who, as
Michael Hoffman
puts it, "enjoyed a partial and episodic immunity from the Federal and local governments for his crimes." Paddock was a bank robber and diagnosed psychopath, described by law enforcement as "a glib, smooth-talking man who is egotistical and arrogant." His crime spree started in the 40s: convicted in 1946 on ten counts of auto theft, 5 counts of running cons. He committed armed robbery against a bank in 1969, just 6 months after escaping from federal prison (after which he was placed on the top-10 most wanted) for a 1960 bank robbery. He was arrested in Las Vegas in 1971 after changing his appearance to evade law enforcement. Of course, "Neighbors said they couldn't believe that the colorful businessman, then 34 years old, was involved in crime."
He spent a year in prison in the late 70s, but was paroled in 1979 after just 1 year (he was in prison for multiple robberies, prison escape and attempting to run over a Federal officer). He was arrested agin in 1987 for racketeering. He got off with a $100,000 fine, no jail time. He died in 1998.
Stephen Paddock's brother, Eric, says he and his brother
didn't know
their father - understandable, given his career choice.
Update (Oct. 3):
Vegas police officials have provided
more information
.
Clark County Sheriff Joseph Lombardo says 59 people have been killed and 527 injured in a mass shooting Sunday night at an outdoor country music festival in Las Vegas. Speaking at a news conference, Lombardo also said investigators found 18 firearms, explosives and several thousand rounds of ammunition in the home of shooter Stephen Craig Paddock in Mesquite, Nevada. He said a SWAT team is standing by 'getting ready to hit' a second house owned by Paddock in Reno, Nevada.



In addition to the
multiple weapons
found in Paddock's home, police say they found a total of 23 firearms in the hotel room, including high-powered rifles capable of penetrating police armor, as well as a modified bump stock rifle allowing it to simulate automatic fire. Two stores have confirmed they sold firearms to Paddock: New Frontier Armory in North Las Vegas, and Guns and Guitars in Mesquite, Nevada (where Paddock owned property). Police say they also found ammonium nitrate in Paddock's car. An image of two of the weapons found in the hotel has made it online:
Police are still trying to determine a motive and have requested witnesses to send pictures and recordings to the FBI. Eric Paddock provided more detail on his brother: he was wealthy, liked video poker and going on cruises. A neighbor described Paddock
to Michael Savage
as "a friendly man with ordinary hobbies", adding that the narrative doesn't add up. Paddock didn't have any obvious political or religious views. He speculate that Paddock was not the real shooter.
ISIS is doubling down on their claim, going so far as to call Paddock "Abu Abd Abdulbar al-Ameriki". Still no evidence Paddock was linked in any way to ISIS, though. Trump has
called
the attack an "act of pure evil". Trey Gowdy
appeared
on Fox with his initial thoughts:
Appearing on Fox News on Monday, Gowdy told Martha MacCallum that "its really impossible to fathom a massacre on this scale."

He also asserted that it is difficult to believe that a single person could carry out such an attack alone and undetected.

"It was an incredible level of premeditation that you don't normally see, and it is difficult to believe that a single person could have done this without detection," Gowdy said. He added that "a lot of crime is prevented because a non-law enforcement officer says something" and that he believes that it is likely we will find out that someone along the way thought that something was suspicious.

"I think we're going to find someone along the way was suspicious they should have turned that suspicion into a phone call to law enforcement. It's an incredible amount of premeditation to not go detected," Gowdy added.
Questions are now being raised as to what actually happened. Multiple witnesses stated they thought there was
more than one shooter
. While some of the evidence cited so far is ambiguous or misleading (e.g., the strobe light visible in many videos on a lower floor of the hotel, misidentified by many online as muzzle flashes), other videos appear to capture the sound of more than one source of gunfire.
Surveillance footage of Paddock has
yet to be released
. He had reportedly been staying at the Mandalay Bay for four days before the shooting, where he used his girlfriend's slot machine card, including on the night of the shooting.
Update:
More details
from Mesquite, Nevada
, where Paddock lived:
...[Paddoc] kept a low profile, conversing little and maintaining no Facebook or Twitter accounts. ...

"He was always normal," said Donald Judy, a former next-door neighbor who said he was struggling to reconcile the friendly conversations about real estate and family with carnage carried out from a hotel room on the 32nd floor of the Mandalay Bay Resort and Casino.

Almost every week, Paddock and his girlfriend, Marilou Danley, would go to Peggy Sue's bar and diner in Mesquite, where they would have a few drinks and she would sing karaoke ...

Everyone seated at the U-shaped bar Monday evening remembered Danley in particular. Bartender Monique Ortega said that when she learned Paddock was the shooter, she called her boss immediately.

"Now [that] I know that it was him, he seemed kind of creepy," she said.
...
Paddock gambled frequently, and two law enforcement sources said he had made chip purchases in Nevada casinos in the last year that were in excess of $10,000 a day, the amount required to be reported to the government.

But relatives and acquaintances said he was a successful real estate investor who showed no sign of financial problems.
...
U.S. Rep. Ruben Kihuen (D-Nev.), who received a briefing from the multiagency anti-terrorism center, said no new clues have emerged so far.

"Law enforcement were looking through his computer. They couldn't find a motive. As of a couple of hours ago, there was no motive. That's all we know," he said late Monday afternoon.
...
Paddock's former brother-in-law, Scott Brunoehler, recalled the gunman in the 1970s and 1980s as a smart, fun-loving person who enjoyed entertaining on his boat at Castaic Lake and Buena Vista Lake in Kern County.
...
Paddock listed his occupation as postal carrier at the time of their marriage. He worked for a predecessor to Lockheed Martin for three years in the late 1980s, according to a company statement. His brother-in-law said he was an accountant; public records describe him as an internal auditor.

He also owned rental properties across the country. In Los Angeles, Paddock co-owned two run-down apartment buildings in a working-class neighborhood of Hawthorne.
...
Donald Judy's wife, Sharon, who lived next door to Paddock in Florida, said he described himself as a world traveler and "professional gambler by trade" and said he once showed her a picture of himself winning a $20,000 slot-machine jackpot.

"He was friendly all the time," she said.
NBC is reporting that Paddock
wired $100,000
to the Philippines in the week before the shooting. He seems to have started dating Marilou Danley (who was in the Philippines over the weekend) earlier this year.
A man named Jeff Bridges made a video tour last year of the same room used by Paddock (you can view it
here
). In it, you can see that the suite is large. Both broken windows visible in photographs of the hotel appear to belong to the room in question (the one on the left being the TV area, the one on the right the area before the bedroom).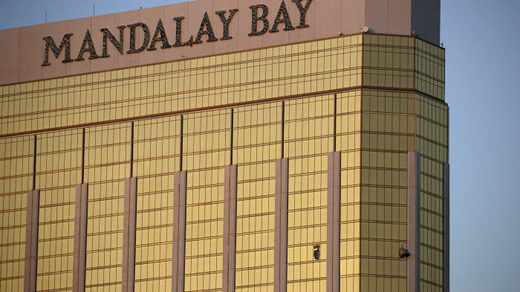 An Iraq war vet, Chris Bethel, apparently had a room just 2 floors
below
Paddock's:
Now, police are crediting the Haltom High School graduate with helping lead them to the room where Stephen Paddock, 64, from Mesquite, Nevada was shooting into a crowd of more than 22,000 people.

Bethel called police immediately and told them what he saw and heard, convinced the shooter was nearby.
...
"About 10 minutes later the Las Vegas Police Department called me to let me know that the shooter was on the 32nd floor. Room 135, and that they had gotten him," said Bethel.
...
"I feel like I didn't do enough. I feel like I couldn't get a hold of somebody quick enough to let them know. And it felt like it took them too long to get over there... to take him out. To get him. And it's actually eating me up inside," said Bethel. "I just need to go home. That's my thing. I need to go home to my family. And just process all of this."
Live updates from @LVMPD: