About Aeneas
Name: Aeneas Georg

I work in the international transport sector in Europe. I've been reading SOTT since 2003 and first joined the editorial team in 2007 after realizing I had to do something about the deteriorating state of our world. Especially as I saw how our mainstream media has let us down. I'm particularly interested in 'following the money' to track the machinations of the deceptive ones in high places. I suppose you could say I've taken my chosen profession to a new level, and now with SOTT I'm "inspecting the flows" of people and money in more ways than one.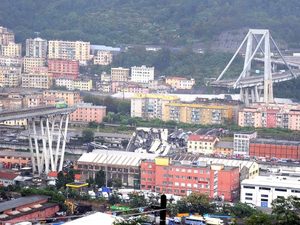 14 August 2018: Morandi Bridge in Genoa, Italy, collapses during a storm, killing 35 people
Shared pain is lessened; shared joy, increased - thus do we refute entropy.
- Spider Robinson
Recent Comments
OK, so there are four contributors, Blisslife, BabaJaiy, Agnosco and prehistoric, all proselytising in favour of this DMT garbage, various of whom...
---
yes, cuomo. A servant of ALL people not just the ones with whom you agree.
---
Thank you for sharing this historical perspective, Leanne Rojik.
---
"South African winemaker concerned land seizures could be 'disastrous' for industry & economy." "There is no historic 'land ownership' that...
---
Beautifully stated!! It's so wonderful to see people talking about real psychological progress in such warm and compassionate terms. Herein lies...