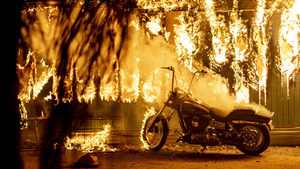 The Woolsey Fire in Malibu, California, November 10, 2018
He who passively accepts evil is as much involved in it as he who helps to perpetrate it. He who accepts evil without protesting against it is really cooperating with it.
- Martin Luther King, Jr.
Recent Comments
TYPICAL AMERICAN RACIST NAZI MONEY HUNGRY BASTARDS..
---
Thank God the Royal Norwegian Navy does not blame Russia for sinking its frigate Helge Ingstad, which hit a tanker during the drills. Many of the...
---
it is already known that Sodham and gemorrah were destroyed by an airburst of a meteor. so what are they claiming.?
---
The Governor should submit a bill to the legislature to ban all actors from Georgia. Legal or not it won't matter. Just watch how fast these...
---
what ever happened to the SOTT Sick Bag?